Imogiri Royal Cemetery (Pemakaman Imogiri) Tours and Activities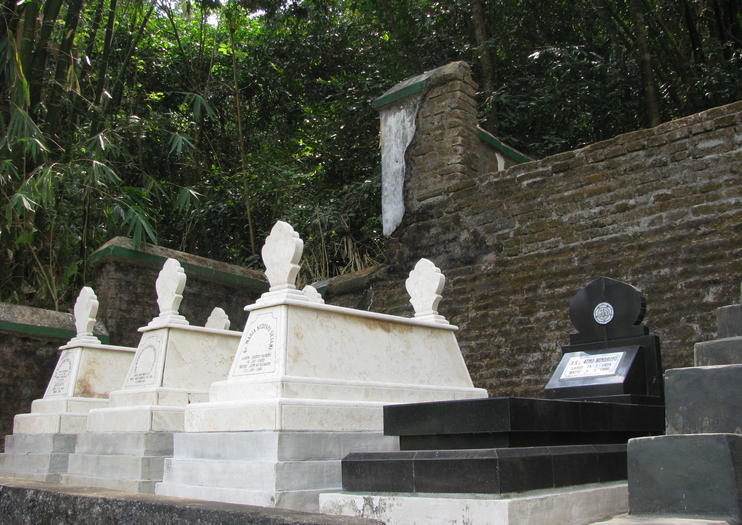 Just outside Yogyakarta, the Imogiri Kings Cemetery (Pajimatan Girirejo Imogiri) is the final resting place of the rulers of the Muslim kingdoms of Mataram, Yogyakarta, and Surakarta. Also called the Imogiri Royal Cemetery, the 17th-century site is well worth the effort involved in visiting—including dressing up in Javanese court costume.
The Basics
While it's possible to visit Imogiri independently, most visitors join an Imogiri Kings Cemetery tour not only for the convenience of round-trip transportation and the cultural insights of a guide, but also for help with dressing up in the appropriate costume. A typical Imogiri guide explains the symbolism that lies behind the cemetery architecture, tells you how the three kingdoms came to be, and shows you some significant resting places. A guide might also introduce you to the abdi dalem, or cemetery guardians, and translate as they speak with you about their lives. It's best to hire a guide in Yogyakarta, though if you speak Indonesian and want to visit on your own, the guardians will be happy to introduce the site to you directly.
Things to Know Before You Go
With its colorful culture and long history, Imogiri is perfect for heritage buffs.

You can rent the required Javanese court dress for a small fee on arrival. The women's costume is strapless, so plan accordingly (e.g., wear a strapless bra).

Women who are menstruating are not allowed to enter the sacred site. Please respect this prohibition. Children are allowed if they are of an age to behave respectfully.

You must leave all belongings at the registration desk.

The site is reached by a long series of stone steps with no wheelchair access.

How to Get There
Imogiri Kings Cemetery is about 11 miles (17 kilometers) from the Sultan's Palace (Kraton) in Yogyakarta. Getting there by public transport is fiddly: catch a city bus to the Giwangan Terminal and then, if your Indonesian is good enough, pick up a bemo minibus. Given the logistical and cultural complexities, many visitors opt to join a tour.
When to Get There
The graves open to the public three times a week, on Monday morning (generally the quietest time), Friday afternoon, and Sunday morning. Imogiri is closed during the Muslim month of Ramadan. Three times a year, on 1 and 8 Sawal and 10 Bulan Besar per the Javanese calendar, they open for special ceremonies; guides and Yogyakarta Tourist Information can advise when these fall.
A Tale of Three Kingdoms
Sultan Agung Hanyokrokusumo, king of the Islamic Mataram Kingdom, built the Imogiri Kings Cemetery for himself and his regal descendants in 1632. Per a civil war treaty dating from 1755, Mataram's heirs now rule over two separate sultanates (Muslim kingdoms): the cities of Yogyakarta and Surakarta, also known as Solo. Therefore, today, the cemetery is home to kings, queens, and royal descendants from three separate kingdoms.
Address:
Imogiri Hill, Yogyakarta 55782, Indonesia
Read More
Show Less
0 Tours and Activities to Experience Imogiri Royal Cemetery (Pemakaman Imogiri)
---