How to Spend 2 Days in Yellowstone National Park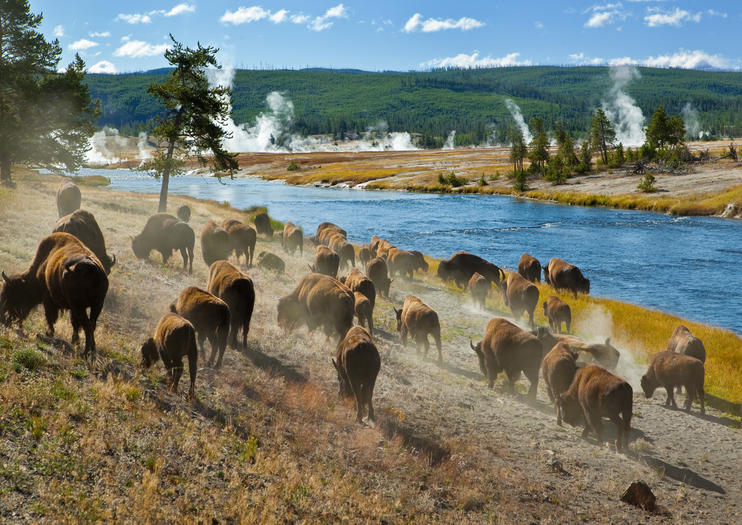 With two days in Yellowstone National Park, you don't need to pick and choose which sights to see, since you have enough time to visit the park's North Loop and South Loop, see Old Faithful, and even float on the Yellowstone River. Here are your options for two days in Yellowstone. 
Day 1: Park Sightseeing
Morning: On your first day in Yellowstone, get your bearings with a full-day tour of the national park. Hop on an air-conditioned vehicle to explore top park sights, including Old Faithful, Yellowstone Lake, and Hayden Valley. Snap fantastic photos of roaming wildlife, which is plentiful in late summer.
Afternoon: If you booked a tour, enjoy a picnic lunch with your group (included with most tours), then head on to the Northern Range of the park. Don't miss Lamar Valley, which is known as a wintering ground for bison and elk and home to packs of wolves. 
Night: After your busy day touring Yellowstone, enjoy dinner in one of the park's historic lodges. If you're around Old Faithful, stop at the Old Faithful Inn Dining Room. On the north side of the lake, dine at the Lake Yellowstone Hotel for regional cuisine, including Montana trout.
Day 2: Adventuring in the Great Outdoors
Morning: Since you've seen the park's top sights, spend your second day enjoying outdoor activities. Try a morning rafting excursion through Class II and III rapids on the Yellowstone River, or, for a calmer adventure, opt for a river float or a kayaking tour on Yellowstone Lake.
Afternoon: In the afternoon, don't miss a hike up Mount Washburn. Start from the Dunraven Pass Trailhead or Chittenden Road parking area, and enjoy the lookout from the top of the mountain, where you see parkland stretching out for 50 miles (80 kilometers). 
Night: With no light pollution in the park, be sure to look up at the stunning night sky. You can join a ranger stargazing program, or stop by the Old Faithful Visitor Education Center or Mammoth Hot Springs boardwalks for safe, peaceful spots to look up at the stars.
Read More
Show Less
Yellowstone National Park Tours & Activities (8)
Day Trips
Enjoy a full-day exploring Yellowstone National Park on a small-group guided tour from the comfort of an enclosed, air-conditioned vehicle. Stops include Old Faithful, the Lower Falls of Grand Canyon of Yellowstone, and several opportunities to observe the diverse wildlife of these national parks. Riding along with a naturalist guide, you'll spend the morning searching for bears, wolves, elk, moose, and bison, and continue the tour at famous Yellowstone landmarks. Your professional guide will explain the park's history, ecology and geology throughout the day. Since this small group tour has an 11-person maximum, you're ensured a personalized Yellowstone experience.
12 hours

Taking safety measures
---
Day Trips
Experience winter in Yellowstone National Park on a full-day snowmobile tour from Jackson Hole. You'll cover about 90 miles (145km) on your round-trip journey by snowmobile, and have the chance to see the Old Faithful geyser and other geothermal wonders, native wildlife of Wyoming, vast tracts of snow-covered forest, and landmarks like Moose Falls, West Thumb geyser basin, and Fountain Paint Pots. Includes hot breakfast, lunch, snowmobiling gear and guide, and hotel pickup and drop-off from Jackson Hole and Teton Village.
12 hours

Free Cancellation
---
Tubing
Succumb to the serenity of the Yellowstone River during a scenic 2-hour float on an inflated raft. With a professional guide, meander 6 miles past stunning scenery and incredible wildlife while listening to informative commentary. Bring a waterproof camera in order to capture photographs of Osprey birds and the magnificent Gallatin Mountains as you cruise down the beautiful river. This excursion is perfect for families with young children, and for those who prefer a more relaxed alternative to white water rafting.
---
Day Trips
With the guidance of a professional photographer and naturalist, you'll be able to get the most out of your visit to Yellowstone National Park. This 12-hour tour takes you to some of the best wildlife viewing areas, as well as Old Faithful and the Upper Geyser Basin with a small group of just 7 people. Snacks, breakfast, and round-trip transportation from Cody, Wyoming hotels are included.
12 hours

Free Cancellation

Taking safety measures
Learn More
12 hours

Free Cancellation

Taking safety measures
---
Kayaking
Explore the rocky shores and tranquil waters of Yellowstone Lake on a 6-hour kayak tour with a professional guide. Climb into either a single or double kayak and then set out to discover the beauty of Yellowstone Lake at a relaxed pace. Scour the rugged shores for native wildlife like elk, moose and bison; watch otters frolic in the warm waters of the lake; appease your appetite with a delicious picnic lunch; and paddle beside the West Thumb Geyser Basin to see incredible geothermic features. No previous kayaking experience is necessary for this enjoyable excursion.
6 hours

Taking safety measures
---
Rafting
Appease your appetite for adventure on a 2-hour rafting adventure of the Yellowstone River from Gardiner. Experience the exhilaration of rafting on the frenetic rapids of the Yellowstone River while admiring the spectacular scenery of Yellowstone National Park. Allow a professional guide to direct you to paddle hard and fast over thrilling rapids and, when you reach calmer sections of the water, stop for a refreshing swim in the Yellowstone River.  
---
Rafting
Experience the exhilaration of rafting on the Yellowstone River on a half-day rafting trip from Gardiner. Under the guidance of an expert instructor, paddle on rapids classified as Class II and III and admire the beautiful scenery of the Gallatin National Forest. Discover the rugged beauty of Yankee Jim Canyon and revitalize with a delicious picnic lunch midway through your adventure. Allow a professional photographer to capture photos of your unforgettable day and opt to purchase the mementos when your tour concludes.
---
Overnight Tours
Get a comprehensive experience of the Yellowstone River during a scenic overnight raft trip. With a guide, float past stunning scenery, starting with a calm stretch of river and a picnic lunch before hitting some whitewater action. Afterward, arrive at your campsite for dinner, stargazing, and roasted marshmallows.
---
---