How to Spend 1 Day in Yellowstone National Park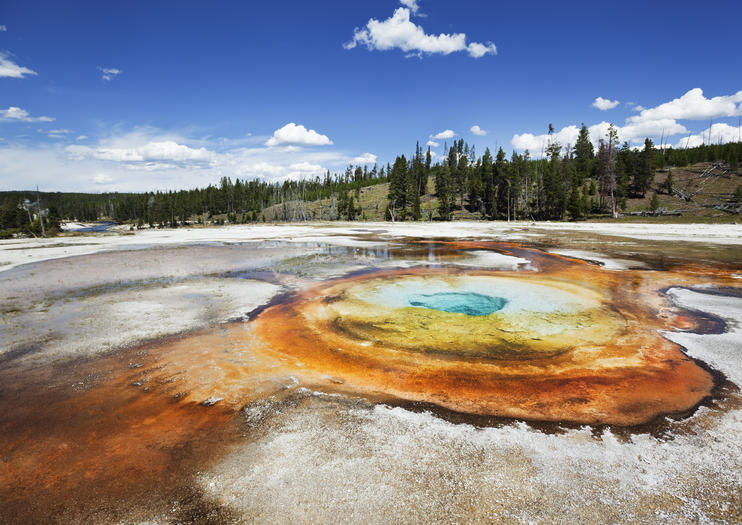 Yellowstone National Park is celebrated for its untouched environment, plentiful wildlife, and must-see natural features, including geysers, waterfalls, and windswept mountain peaks. With so much to see, here's what you need to know to make the most out of one day in Yellowstone.
Morning: Adventure on the Water
To start your day in scenic Yellowstone National Park off on the right foot, don't miss a thrilling morning rafting on the Yellowstone River. Most river-rafting adventures are beginner-friendly, with a guide to lead the way. Rip through Class II and III rapids, and enjoy the chance to take a swim as you pass through calm sections of the river. If you're not up for the rapids, try a guided kayak excursion on Yellowstone Lake. Take in the views at a relaxed pace, and expect to spot some local wildlife, such as elk and bison, as you paddle. 
Afternoon: Geysers and Mountain Hikes
After your time on the water, take the guesswork out of getting around with a guided sightseeing tour or wildlife tour. If you want to explore independently, head to the West Thumb and Grant Village area, known for views of Yellowstone Lake, numerous geyser basins, and hydrothermal features. It's a great place to stroll a boardwalk trail and see the lake and mountain vistas. Another ideal afternoon destination is the Grand Canyon of the Yellowstone, where you find the towering Upper and Lower falls. And if you're an outdoor-sports enthusiast, prioritize a hike up Mount Washburn—one of the park's most popular destinations for day hiking.
Night: Old Faithful and Historic Dining
After so much outdoor adventuring, end your day with a calming stop at one of the most celebrated features in Yellowstone park: Old Faithful. If you're patient, you can see this geyser erupt over 100 feet (30 meters) into the air, which it does reliably every 35 to 120 minutes. After taking in this natural wonder, cruise through the Upper Geyser Basin area, and visit the historic Old Faithful Inn Dining Room for a sit-down dinner. Don't miss the buffet for a great value and a taste of fantastic local flavors such as huckleberry (in dishes sweet and savory) and freshwater trout.
Read More
Show Less
Yellowstone National Park Tours & Activities (7)
Day Trips
Enjoy a full-day exploring Yellowstone National Park on a small-group guided tour from the comfort of an enclosed, air-conditioned vehicle. Stops include Old Faithful, the Lower Falls of Grand Canyon of Yellowstone, and several opportunities to observe the diverse wildlife of these national parks. Riding along with a naturalist guide, you'll spend the morning searching for bears, wolves, elk, moose, and bison, and continue the tour at famous Yellowstone landmarks. Your professional guide will explain the park's history, ecology and geology throughout the day. Since this small group tour has an 11-person maximum, you're ensured a personalized Yellowstone experience.
12 hours

Taking safety measures
---
Day Trips
Experience winter in Yellowstone National Park on a full-day snowmobile tour from Jackson Hole. You'll cover about 90 miles (145km) on your round-trip journey by snowmobile, and have the chance to see the Old Faithful geyser and other geothermal wonders, native wildlife of Wyoming, vast tracts of snow-covered forest, and landmarks like Moose Falls, West Thumb geyser basin, and Fountain Paint Pots. Includes hot breakfast, lunch, snowmobiling gear and guide, and hotel pickup and drop-off from Jackson Hole and Teton Village.
12 hours

Free Cancellation
---
Tubing
Succumb to the serenity of the Yellowstone River during a scenic 2-hour float on an inflated raft. With a professional guide, meander 6 miles past stunning scenery and incredible wildlife while listening to informative commentary. Bring a waterproof camera in order to capture photographs of Osprey birds and the magnificent Gallatin Mountains as you cruise down the beautiful river. This excursion is perfect for families with young children, and for those who prefer a more relaxed alternative to white water rafting.
---
Day Trips
Tour the lower loop of Yellowstone National Park with an expert guide on this all-day tour. Visit popular sites like Old Faithful, Grand Prismatic Spring, Lake Yellowstone, and more. Stop for an included lunch and many photo ops throughout the day. As you travel through the park, keep your eyes open for bears, elk, and bison that are commonly spotted in the area.
10 hours

Free Cancellation

Taking safety measures
Learn More
10 hours

Free Cancellation

Taking safety measures
---
Kayaking
Explore the rocky shores and tranquil waters of Yellowstone Lake on a 6-hour kayak tour with a professional guide. Climb into either a single or double kayak and then set out to discover the beauty of Yellowstone Lake at a relaxed pace. Scour the rugged shores for native wildlife like elk, moose and bison; watch otters frolic in the warm waters of the lake; appease your appetite with a delicious picnic lunch; and paddle beside the West Thumb Geyser Basin to see incredible geothermic features. No previous kayaking experience is necessary for this enjoyable excursion.
6 hours

Taking safety measures
---
Rafting
Appease your appetite for adventure on a 2-hour rafting adventure of the Yellowstone River from Gardiner. Experience the exhilaration of rafting on the frenetic rapids of the Yellowstone River while admiring the spectacular scenery of Yellowstone National Park. Allow a professional guide to direct you to paddle hard and fast over thrilling rapids and, when you reach calmer sections of the water, stop for a refreshing swim in the Yellowstone River.  
---
Day Trips
Make the most of your time in Wyoming on a private tour of Yellowstone National Park's lower loop, with round–trip transport from the doorstep of your Jackson Hole accommodation. In addition to navigating through remote locations, your guide explains and highlights the area's thermal features, from erupting geysers to river waterfalls. The day includes a full picnic lunch and the option to customize the itinerary to fit your interests.
10 hours

Free Cancellation

Taking safety measures
Learn More
10 hours

Free Cancellation

Taking safety measures
---
---