Art Lover's Guide to Ubud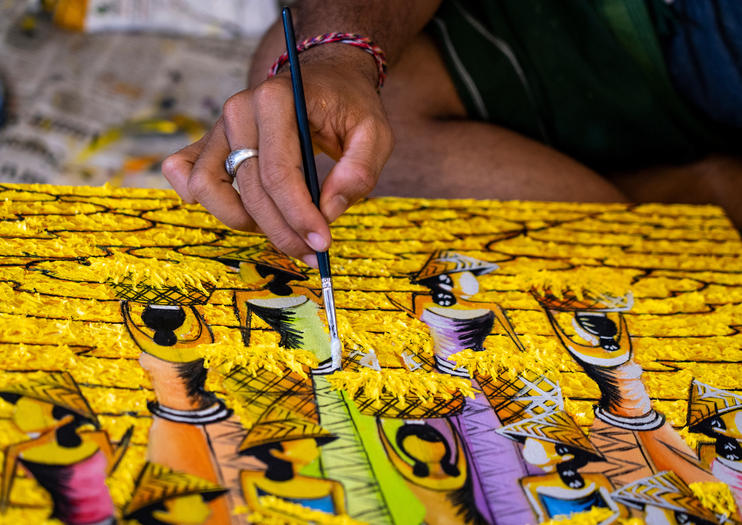 Ubud is a hub for visual arts, and the best place in Bali to learn about and appreciate Balinese art and crafts. From museums filled with colorful Ubud-style paintings to markets selling traditional handicrafts, here are the must-see sights for art lovers in Ubud. 

Agung Rai Museum of Art (ARMA)
Founded by respected Balinese art dealer and ambassador of Balinese culture Agung Rai, this museum is one of the top art attractions on the island. The collection features works by indigenous artists, as well as international artists who lived and worked in Bali, such as Walter Spies and Willem Gerard Hofker. Paintings are hung in Balinese-style buildings, and the site also features a traditional Balinese garden. 
Puri Lukisan Museum
Another staple of Ubud's art scene, this museum, which first opened in the 1950s, showcases Balinese talent. Various Bali schools and styles are represented, spanning everything from 16th-century pieces to modern art. 
Neka Art Museum
Opened in 1982, this museum holds works not just by Balinese artists, but also by those for whom Bali is an important subject matter or source of inspiration. As well as artworks, the Neka Art Museum also features a collection of keris (curved Indonesian daggers). 
Ubud Traditional Art Market
Known by locals as Pasar Seni Ubud, this daily market—situated opposite the Puri Saren Palace—is filled with stallholders selling a wide range of handcrafted local goods. Typical offerings include everything from wood carvings and silver jewelry to paintings and handwoven baskets.
Celuk Village
About a 20-minute drive south of Ubud, this small village is at the center of Bali's silver and gold trade. Admire intricately designed pieces of gold and silverware, from cutlery to ornaments and jewelry. 
Tohpati Village
This village, about a 50-minute drive from Bali, is known for its batik production, a traditional method of creating colorful patterned textiles. Observe the steps involved in the batik process, from designing to waxing to dyeing, then browse showrooms containing examples of the elaborate craft.
Read More
Show Less
---