Things to Do in Tokyo This Fall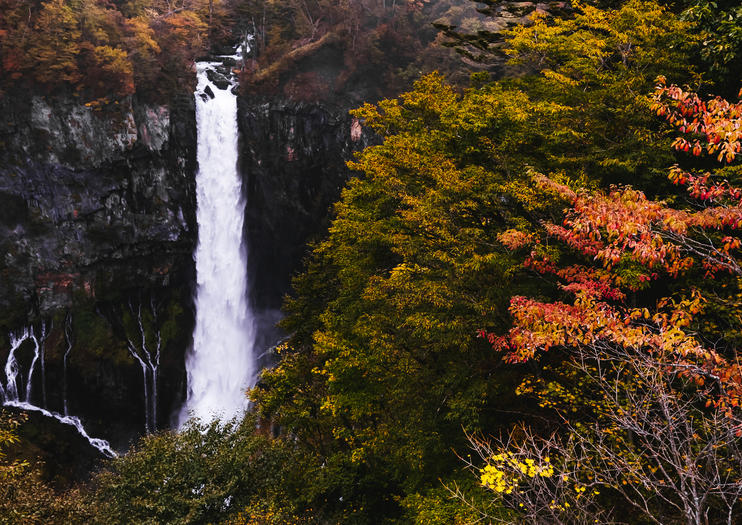 As colorful leaves create a beautiful backdrop and temperatures become more comfortable than in sweltering summer, autumn is an ideal time for exploring Tokyo. Visiting the Japanese capital between September and December yields myriad opportunities to experience the unparalleled culture, food, history, and scenery. Here are a few ways to do so.
Explore Tokyo at your own pace and see only what you want to see on a private custom city tour.

Eat and train like a sumo wrestler during a sumo demonstration and chanko nabe (hot pot) lunch.

Thrill to the sights and sounds of an electric matinee performance at the Robot Restaurant.

Explore theme-park magic with a 1-day passport and private transfer to Tokyo Disneyland or DisneySea.

Soak up views of Mt. Fuji and Lake Kawaguchi and pick seasonal fruits on a day trip to Fuji's 5th Station.

Explore the shrines, temples, and landscapes of Nikko National Park on a day tour of Nikko.

See fall foliage just outside Tokyo on a day trip to the Yamanashi Prefecture, Arakurayama Sengen Park, and Lake Kawaguchi.

Take a full-day tour to the Niigata prefecture to see its golden autumnal glory, and to ride the Naeba Dragondola and Tashiro Ropeway.

Experience a kaleidoscope of color on a full-day Tokyo sightseeing tour during spectacular momiji (autumn leaves) season.

Read More
Show Less
Tokyo Tours & Activities (5)
Day Trips
Discover Tokyo at your own pace on this 4- or 8-hour private, custom tour with guide. Design a tour that's perfect for your interests. There's a world of options, including the outer fish market at Tsukiji, the city's temples and shrines, shopping excursions and food or sake tours. Your private custom tour includes a guide, entrance fees at select attractions, snacks, round-trip transport from your hotel with meet-and-greet and a car (for the private transfer option), or public transport (for the public transfer) and optional lunch (for the full-day tour).
8 hours

Free Cancellation

Taking safety measures
Price varies by group size
Price varies by group size
Learn More
8 hours

Free Cancellation

Taking safety measures
---
Dining Experiences
Eat, train, and fight like a real Japanese sumo wrestler during this sumo demonstration and authentic 'Chanko Nabe' (hotpot) meal. Discover the history, training, and rules behind the typical sumo match as you watch real clashes. You can even try it yourself during a skirmish with a retired wrestler. Once you've worked up an appetite, dig into a tasty Chanko Nabe, a filling meal of hotpot, rice, miso, salad, French fries and more, used by these hulking fighters to gain weight. Admission to the demonstration and meals are both covered.
---
Half-day Tours
Take a deep dive into the world of Japanese seafood during this tour of the outer Tsukiji Fish Market. Rub shoulders with Michelin-starred chefs as they shop for ingredients at this sprawling, 80-year-old market for all things aquatic. Investigate the various stalls selling fish, shellfish, and everything in between, and sample Japanese favorites such as sushi, fresh Tuna, and sake. A local guide and all food on the tour are included.
3 hours

Free Cancellation

Taking safety measures
Learn More
3 hours

Free Cancellation

Taking safety measures
---
Day Trips
Enhance your experience of Nikko National Park on an enriching full-day excursion from Tokyo. Feast your eyes upon breathtaking countryside, sacred shrines, and stunning temples as you explore the region with an accomplished guide. Visit Toshogu Shrine, a UNESCO World Heritage site dedicated to Shinto worship, and hear about the structure's fascinating history. Opt for the upgrade to pleasure your palate with a traditional Japanese lunch, and then absorb the natural splendor of Lake Chuzenji and Kegon Falls. Plus, enjoy the convenience of round-trip transportation from Tokyo on this comprehensive tour.
11 hours

Taking safety measures
---
Attraction Tickets
Spend the day exploring the magic of Tokyo's Disneyland or Disneysea without the transportation hassle thanks to this 1-day passport ticket and included private transfer. Skip the crowded trains and get a pickup from your hotel in any of Tokyo's 23 wards and a drop-off right at the park gate.
8 hours

Taking safety measures
Price varies by group size
Price varies by group size
Learn More
8 hours

Taking safety measures
---
---