Sumo Wrestling in Tokyo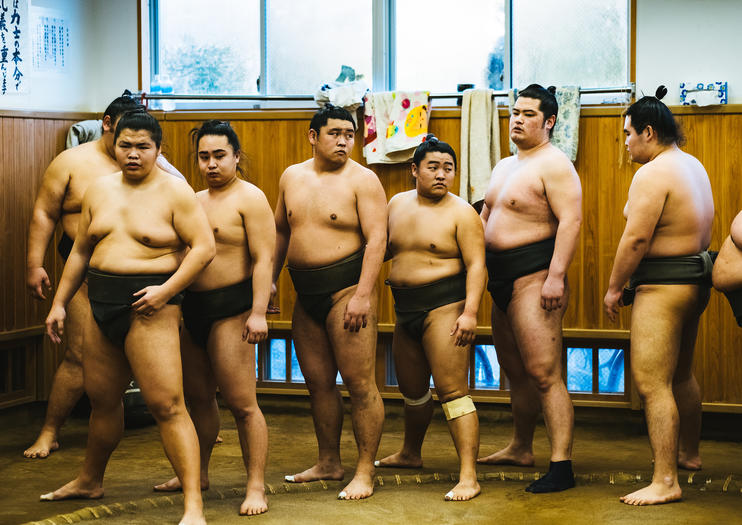 An ancient Japanese Shinto tradition, sumo wrestling combines ritual elements with the energy of full-contact wrestling. From attending the annual sumo tournaments to observing sumo stable training sessions, here's how to experience sumo in Tokyo.
When to Go
Six 15-day Grand Sumo tournaments are held each year in Japan. Most take place in Tokyo, with one held in January, another in May, and a third in September, while Fukuoka, Osaka, and Nagoya each host one tournament as well, in November, March, and July, respectively. Even if you don't happen to be in Japan during a Grand Sumo tournament, you can take a sumo-themed tour any time of year to gain insight into wrestlers' training and eating habits while learning all about sumo culture.
Where to Go
Tokyo is the epicenter for most sumo activity, with the city's famous Ryogoku district's Ryogoku Kokugikan (Sumo Hall) hosting three annual tournaments. Most of the various sumo stables and sumo-themed tours are also based in Japanese capital.
How to Go
If you time your trip right, you can attend a sumo tournament to view a Dohyo-iri ring-entering ceremony and catch the action of a live match. Otherwise, combine visits to top Tokyo sites such as the Tsukiji Fish Market or the Asakusa area with a stop at one of the city's numerous sumo training stables to see where heavyweight combatants live and prepare for matches, an experience only available by tour. Other tours explore specific aspects of daily sumo rituals including wrestlers' diets, which center around a calorically rich stew called chanko, or visit the Sumo Museum (Nihon Sumo Kyokai), which is attached to the Ryogoku Sumo Hall and features sumo artifacts, some dating back as far as 1600.
Read More
Show Less
Tokyo Tours & Activities (5)
---