Lake Walen (Walensee) Tours and Activities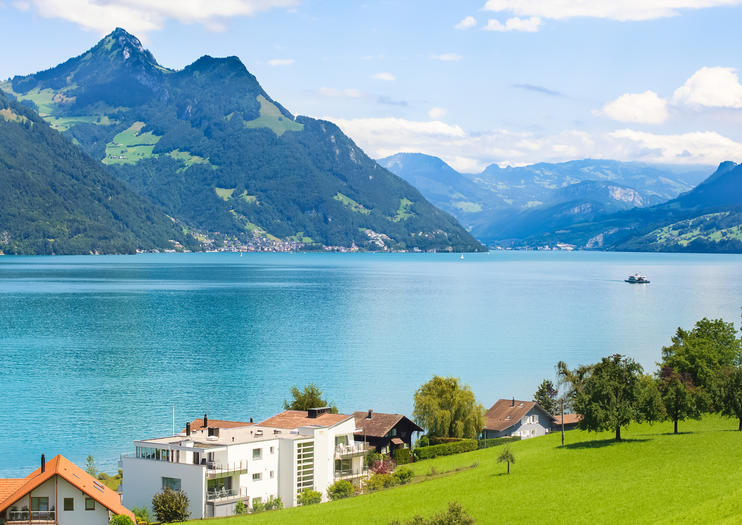 Lake Walen is a lake in eastern Switzerland separating the cantons Glarus and St.Gallen. It is part of a region known as Heidiland, named after the famous Heidi story by Johanna Spyri and represents these corresponding values of unspoiled nature, warmth and simplicity. The mountains rise almost vertically on all sides of the lake and nestled on little plateaus and along the shores are several traditional Swiss towns. Below the steep south face of the Churfirsten, the small village of Quinten is a car-free paradise. It can only be reached by boat from Murg or on foot and due to the protected location, excellent grapes, figs and kiwis are grown here.
To the west of Quinten, the mighty Seerenbach Waterfalls gush from a cave system and tumble in three cascades almost 600 meters down the cliffs. The waterfalls are especially impressive in spring, when the melting snow turns them into a torrent. Located high up on a sunny plateau and overlooking the northern shores of Lake Walen is the town of Amden. The village, its adjoining ski slopes as well as the hiking trails are often above the clouds and thus, it's a popular holiday destination throughout the year. On the other side of the lake, another highlight awaits at Flumserberg, the biggest winter sports area in the region consisting of several villages and a huge network of slopes, trails and cycling paths.
Practical Info
Lake Walen is located in eastern Switzerland, roughly an hour away from Zürich. There are direct trains from Zürich to Walenstadt, but to get to Weesen, a change from train to bus is necessary in Ziegelbrücke. The boats on Lake Walen run throughout the year, although in winter the service is limited to the route from Murg to Quinten. 
Address:
St Gallen, Switzerland
Read More
Show Less
0 Tours and Activities to Experience Lake Walen (Walensee)
---