How to Spend 3 Days in Seattle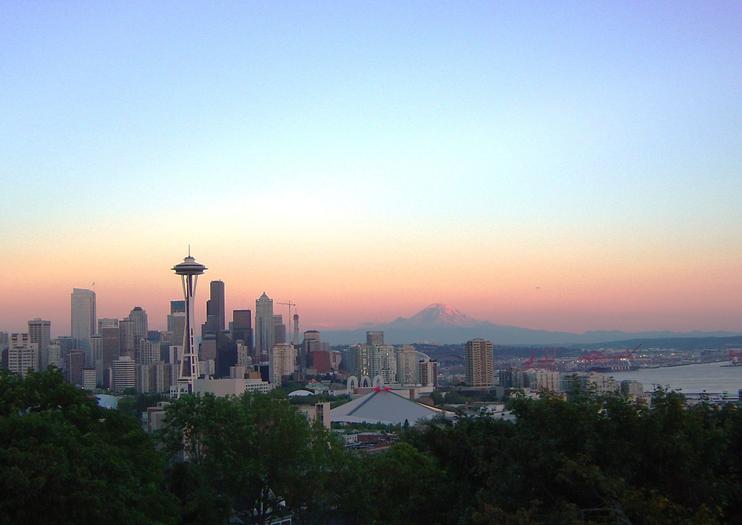 Seattle enchants visitors with top restaurants and attractions, including the Space Needle and Pike Place Market, and the city is equally well-situated for forays into the Cascade and Olympic mountain ranges and for exploration of one of Puget Sound's many islands. Here are a few ways to spend three days in and around Seattle.
Day 1: Explore Downtown
Seattle's downtown is home to its most recognizable sites, including Pike Place Market and the Space Needle. Spend a full day here allows you to explore all of historic Pike Place Market's nooks and crannies and shop for souvenirs. Then, take in the views atop the Space Needle, recently renovated to include a glass floor peering down the structure's stem. Next, take a tour of the Seattle Underground, in the Gold Rush-era Pioneer Square district. You journey down one level below the streets to learn about the city's colorful past. Or, take a few laps on the Great Wheel, the city's waterfront Ferris wheel. Finally, save time to visit the Chinatown-International District, once home to Bruce Lee. The neighborhood is packed with restaurants serving dim sum, banh mi, sushi, and much more. 
Day 2: Get to Know the Neighborhoods
Kick off your day with a scenic flight over Seattle for a bird's-eye view of the landscape, taking in the hilly terrain, views of the Cascade and Olympic mountain ranges, Mount Rainier, and Seattle's many waterways and nearby islands. Then, head to the Fremont neighborhood, a quirky collection of shops and restaurants. Visit the Fremont Troll, a massive statue under the Aurora Bridge, and keep an eye out for Rapunzel's blonde locks flowing from the bridgekeeper's tower on Fremont Bridge. Don't miss Gas Works Park, which overlooks Lake Union and the Seattle skyline. End your day with a tour of Capitol Hill, known for its thriving LGBTQ community. Consider a food tour of the neighborhood to get a taste for the neighborhood's culture and food.
Day 3: Go to the Mountains
Seattle is surrounded by two mountain ranges, the Cascades and the Olympics. On clear days, these peaks are visible just beyond the skyline. It's tough to pick just one place to visit among all these spires, but you can't go wrong with Mount Rainier National Park, which protects Washington's tallest mountain. The 14,400-foot peak—an active volcano—is covered in glaciers, viewable from many vantage points in the park. There are plenty of alpine meadows to explore, plus alpine lakes, waterfalls, and wildlife such as elk and marmots to spot.
Read More
Show Less
Seattle Tours & Activities (8)
Day Trips
Discover Mt. Rainer National Park's highlights on an all-inclusive, small-group full-day tour from Seattle. Explore wildflower meadows, alpine vistas, and waterfalls on foot as you enjoy magnificent views on a guided hike, or snowshoe trek, of Washington State's highest mountain. Savor a delicious breakfast of pastries, fruit, and tea and coffee, an organic lunch with wine, and refreshments throughout your experience. Pick-up and drop-off are included.
10 hours&nbsp30 minutes

Free Cancellation
Learn More
10 hours&nbsp30 minutes

Free Cancellation
---
Cultural Tours
Discover Seattle's original neighborhood, Pioneer Square, on this guided walking tour. Explore the underground pathways that were built in the southwest corner of the Emerald City more than 120 years ago. Learn about Seattle's history and the events that transformed this once-small Indigenous dwelling place into one of the most popular and thriving cities in the United States. Each small-group tour is unique, with insider tips from a professional, local guide.
1 hour

Free Cancellation

Taking safety measures
Learn More
1 hour

Free Cancellation

Taking safety measures
---
Day Trips
Experience the natural beauty of majestic Mt Rainier on this guided, small-group tour from Seattle. Enjoy a scenic, narrated journey past lakes, waterfalls and historic towns to Mt Rainier, the highest mountain in the state of Washington and one of the tallest in the lower 48 states. Take in spectacular views from Narada Falls, considered the most popular waterfall in Mt Rainier State Park and the aptly named Paradise, at 5,400 feet above sea level on the south slope, among others. This tour includes pickup and drop-off from select downtown Seattle and airport hotels.
10 to 12 hours

Free Cancellation

Taking safety measures
Learn More
10 to 12 hours

Free Cancellation

Taking safety measures
---
Attraction Tickets
Experience Seattle's must-see tourist attractions — and enjoy considerable savings — on this exciting Seattle CityPASS. Visit the world famous Space Needle, Seattle Aquarium and take a 1-hour Argosy Harbor cruise. Then choose from the Museum of Pop Culture or Woodland Park Zoo and the Pacific Science Center or Chihuly Garden and Glass to complete the tour. CityPASS mobile tickets are valid for 1 year from the date of purchase. Transportation to and from attractions not included.
---
Air Tours
Fly over Seattle on an exhilarating 20-minute seaplane adventure. Lift off from Lake Union and get a stunning bird's-eye view of Seattle, with beautiful Mt Rainier set as a backdrop in the distance. Get incredible views of the iconic Space Needle, the downtown skyline, the bustling Elliott Bay waterfront and more. You'll hear a recorded commentary about the city during the flight. Land back on Lake Union to conclude the tour.
20 minutes

Free Cancellation
---
Day Trips
While in Washington, take a day tour of Mt. Rainier National Park with complimentary hotel pickup from downtown Seattle. Watch an introduction slideshow to the park at the visitor center, and then journey into the natural region to see Christine Falls, Narada Falls, and Mt. Rainier. Experience the beauty of this nationally preserved outdoor area with help from a guide who knows the best ways around the park.
10 hours

Free Cancellation

Taking safety measures
Learn More
10 hours

Free Cancellation

Taking safety measures
---
Half-day Tours
Experience the best of Seattle on this small-group minibus tour in and around the Emerald City. Visit great attractions in downtown Seattle and at the Seattle waterfront. Travel to Pioneer Square, Chinatown and International District, plus Seattle Center (with the iconic Space Needle), hopping out for photo ops throughout the tour.
---
Day Trips
See the best of Seattle on this sightseeing tour. Sit back and relax in a spacious coach as a knowledgeable guide presents Seattle's neighborhoods and attractions. See the iconic Space Needle (admission included) with stellar views of the Olympic and Cascade mountain ranges, including majestic Mt Rainier. There's Pike Place Market and the Elliott Bay waterfront, plus Pioneer Square. The list goes on. This tour includes convenient hotel pickup.
5 to 7 hours

Free Cancellation

Taking safety measures
Learn More
5 to 7 hours

Free Cancellation

Taking safety measures
---
---