Things to Do in Rovaniemi
The capital city and main transport hub of Finnish Lapland, Rovaniemi is well situated for discovering the region's many highlights. Take in the city's idyllic setting where the Kemijoki and Ounasjoki rivers meet on the Arctic Circle, or get acquainted with the popular Santa Claus Village and Santa Park, located nearby.
The Basics
For most visitors Rovaniemi remains synonymous with one thing—Santa Claus. Just five miles (8 km) north of the city, Santa Claus Village and Santa Park are the top draws, where Father Christmas is in residence year-round, and the festive attractions includes reindeer sleigh rides, husky sledding, and exploring Santa's workshops. The city is dramatically lit up in the evening hours and, during the holiday season, home to a lively Christmas market. Most Rovaniemi city tours include a turn through town to take in the sights, as well as a visit to Santa Claus Village to meet the Jolly Old Elf himself.
Rovaniemi is an atmospheric spot throughout the year, and popular tours from Rovaniemi include excursions to see the northern lights; snowmobile, dog sled, and reindeer sleigh rides; snowshoeing and ice fishing; and—in the warmer months—riverboat cruises.
Things to Know Before You Go
Rovaniemi is a must for kids (and grown-ups) who dream of meeting the "real" Santa Claus.
Temperatures can be gruelingly cold in Rovaniemi in the winter months, so be sure to pack appropriate clothing.
Most Rovaniemi activities and highlights are outdoors and require adequate winter gear.

How to Get There
Rovaniemi is located on the Arctic Circle in southern Lapland and can be reached by air via Helsinki or from outside Finland. There are also trains and buses that connect Rovaniemi to other Finnish towns.

When to Get There
The best time of year to visit Rovaniemi is over the Christmas holidays, when the city is lively with families intent on meeting Santa Claus, and there are a number of seasonal events and activities.

Arktikum
Learn about the history and culture of Lapland and the Arctic at Arktikum, a combined cultural and science museum with exhibits dedicated to the Sámi people and history of Rovaniemi. If you're lucky, you may be able to spot the Northern Lights as you walk through the museum's glass tunnel that stretches from the main building to the Ounasjoki River.
Read More
Show Less
---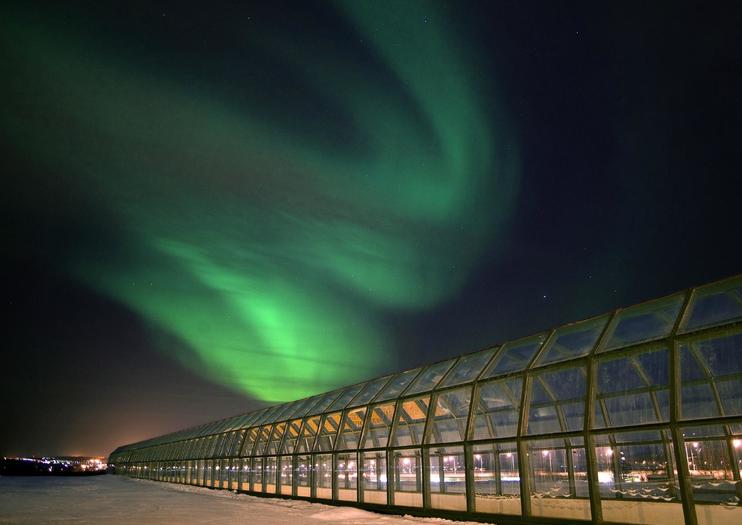 With its beautifully designed glass tunnel stretching out to the Ounasjoki, Arktikum is one of Finland's best museums, albeit with a hefty admission fee. Exhibition spaces include superb static and interactive displays focusing on Arctic flora and fauna, as well as on the peoples of Arctic Europe, Asia and North America. It tells the story of the people of the North.
The level of information is very impressive; this is really a place to learn about the unique northern environments, and there is an excellent research library. There are also good displays of canoes, dwellings, fishing materials, and costumes of various northern peoples (including a good exhibition on the Sámi), as well as a room devoted to the history of Rovaniemi itself. A scale model shows the destruction wrought by the Axis retreat in 1944. There's also a multi-vision theater and a good restaurant. You should allow yourself at least a couple of hours to get around it all.
Read More
Show Less
---
Things to do near Rovaniemi