Things to Do in Rabat
The laid-back Moroccan capital of Rabat is all too often overlooked in favor of its more vibrant neighbors, but the coastal city is more than just a political and administrative center and makes a worthwhile day trip from nearby Casablanca or Fez. Without the frantic traffic jams and frenzied souks that characterize many of Morocco's big cities, Rabat feels more like a provincial town than a bustling city, but this polite and self-effacing nature is all part of its charm.
This is a city where it's easy to explore on foot, strolling along the tree-lined boulevards of the French Centreville; shopping for souvenirs and sampling local cuisine in the medina's many shops and restaurants; and taking in the views from the cliff-top Kasbah of the Udayas. Other key attractions include the landmark Hassan Tower, the lone-standing minaret of Sultan Yacoub al-Mansour's unfinished mosque; the opulent Rabat Royal Palace; and the Roman ruins of Chellah.
Read More
Show Less
---
Rising above the northeastern corner of Rabat, Hassan Tower stands as a visual promise of what the city's historic residents hoped it to be: a grand city, even a capital city (which it now is). Also called Le Tour Hassan, its construction began in 1195 during the Almohad Dynasty, and it was built as part of a larger mosque, which was meant to be the largest in the world.
But alas, when the sultan passed away, work on the project came to an end, leaving the mosque unfinished, and its minaret – the tower – standing only 44 meters high (some say half as high as it would have been). Then, come an earthquake in 1755, the incomplete mosque was further destroyed. Today, though, you can still see the surviving, sandstone Hassan Tower, along with the mosque's remains, such as the columns and walls. Other highlights while here include impressive city and sea views, as well as a visit to the nearby, free-to-enter Mausoleum of Mohammed V.
Read More
Show Less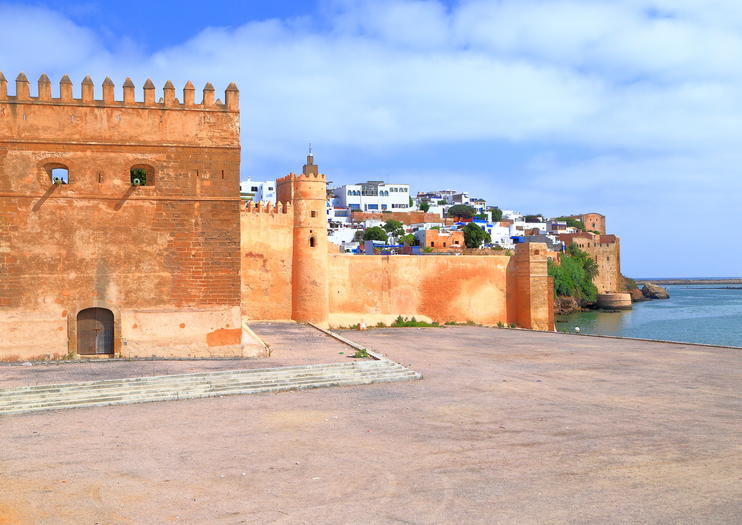 On your visit to Rabat's medina, take a few steps farther north to explore the 12th-century Kasbah of the Udayas, the city's oldest quarter, which was built during the Almohad dynasty. Also called Kasbah les Oudaias, the tightly packed neighborhood has evolved through the centuries, with many of its signature, whitewashed and blue-based houses built by Moroccan refugees from Spain during the 16th century. Today, there are many highlights to behold during a visit to Rabat's wall- and tower-surrounded Kasbah. Entrance through the grand 12th-century Almohad gate of Bab Oudaia hints at the discoveries to come, including a walk down the neighborhood's main street Rua Jamaa and past the city's oldest mosque, El Atiqa; a visit to the palace-located Museum of Oudayas; and especially the unparalleled views of the river and sea (and inviting shoreline), best taken in from the various terraces.
Read More
Show Less
---