Underwater Adventures in Oahu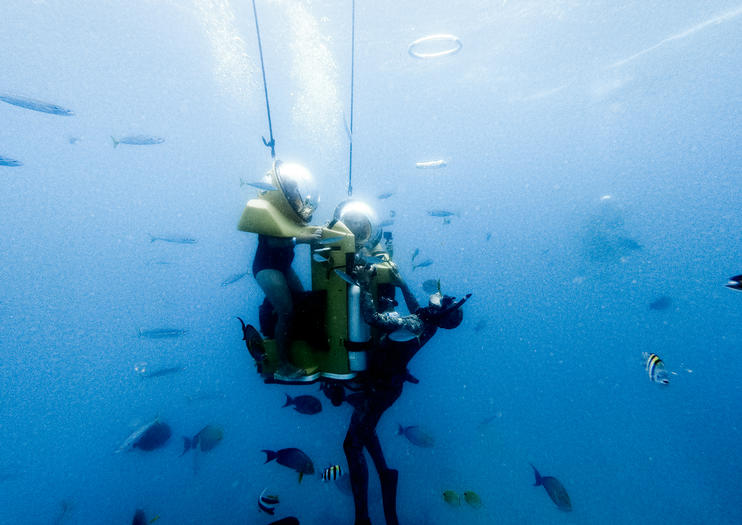 Escape the hustle and bustle of Waikiki by exploring Oahu's Technicolor underwater landscape. Commune with sharks, sea turtles, and tropical fish while listening to humpback whales' songs echo along the reef. Whether you snorkel, dive, paddle, or otherwise get into the water, here are some of Oahu's best underwater adventures.
Take a Snorkeling Cruise by Catamaran to Turtle Canyon
Soak up the sun while sipping cocktails and cruising aboard a catamaran off Waikiki Beach, then don your snorkel and mask for an adventure at Turtle Canyon. The reef site, within view of the downtown skyscrapers and iconic Diamond Head Crater, teems with green sea turtles.
Try Scuba Diving, Snuba, or Underwater Scooters
Itching for a more immersive underwater experience? Certified divers can take a 2-tank boat ride to sites with sunken WWII-era airplanes and shipwrecks. First-timers can breathe underwater too in a "discover scuba" or snuba adventure (where your air is supplied from the surface)—both allow you to stay down long enough to navigate coral pinnacles and befriend colorful fish. In Maunalua Bay, near Hawaii Kai, leave the strenuous kicking up to machines while taking a tour of the seafloor in a self-propelled underwater scooter.
Stay Dry in a Submarine or Glass-Bottom Boat
Search for dolphins and spouting whales at the surface while monitoring the underwater world below in a 2-hour glass-bottom boat tour from Honolulu's Kewalo Basin Harbor. To go deeper and still stay dry, take a submarine tour through coral reefs with local naturalist guides. Unlike with snuba or scuba, you'll be able to hear all the commentary and ask questions as you survey the underwater scene.
Dive with Sharks
Thrill-seekers should head to Haleiwa on the island's North Shore, where boat charters head for the deep blue. Bold guests slide into protective metal cages and drop into the ocean for eye-to-eye views of cruising grey reef sharks, sandbar sharks, and hammerheads.
Kayak to Remote Beaches to Snorkel with Tropical Fish
On the Windward Coast of Oahu, rent kayaks to explore hidden pockets of white sand and offshore seabird sanctuaries; their remote locations make them prime snorkeling spots. From this vantage point you're also in a prime spot for whale watching (in season, November through March).
Read More
Show Less
Oahu Tours & Activities (14)
Nature and Wildlife
Snorkel with green sea turtles in Oahu's Turtle Canyon on this 2- to 3-hour tour departing from Waikiki. Board a power catamaran and sail along the shore of Oahu towards the island's best place to spot the resident turtles. Turtle sightings are guaranteed; if a turtle is not sighted, you will be given a free second cruise. After snorkeling, enjoy lunch (if option selected ) and two provided drinks while you keep your eyes peeled for passing marine life like dolphins and migrating whales. Snorkel equipment and round-trip transportation from Waikiki hotels is included.
3 hours

Free Cancellation

Taking safety measures
Learn More
3 hours

Free Cancellation

Taking safety measures
---
Nature and Wildlife
Explore Oahu's waters on this submarine-style glass-bottom boat ride aboard the Atlantis Submarine. During this family-friendly adventure, learn about the local fish, coral and other animals in this marine habitat through your guide's informative commentary. Descend 100 feet (30 meters) under the surface of the water without getting wet. 
---
Snorkeling
Swim within safe viewing distance to dolphins and green sea turtles on this popular Oahu snorkel cruise from Honolulu. Sail into waters home to spinner dolphins, and then glide alongside colorful fish, aboard a boat equipped with a 20-foot (6-meter) waterslide. Snorkel gear, kayaks, and paddleboards are available onboard to help you get the most of this outing. For lunch, enjoy a Hawaiian cheeseburger with fruit and lemonade. Hotel transport included.
4 hours

Free Cancellation

Taking safety measures
Learn More
4 hours

Free Cancellation

Taking safety measures
---
Snorkeling
Ride a personal, self-propelled, electric underwater scooter through Oahu's underwater world. During this 2-hour tour, cruise past Diamond Head Crater through Maunalua Bay on a power catamaran, then dive under the surface on your scooter to see green sea turtles, schools of tropical fish and other native marine life. No experience is necessary for this guided tour; all equipment is provided.
---
Day Trips
Snorkel at two different Oahu reefs, with transportation between on a 53-foot (16-meter) catamaran in between during this half-day sailing and snorkeling excursion. Keep an eye out for dolphins and whales, sip provided cocktails, and refuel with a Hawaiian-style lunch. Pickup and drop-off available from select Waikiki hotels.
5 hours

Free Cancellation

Taking safety measures
Learn More
5 hours

Free Cancellation

Taking safety measures
---
Kid-Friendly
Set out from Oahu's scenic North Shore to the depths of the big blue Pacific, where you have the chance to observe wild sharks from inside an underwater shark cage. Thanks to your professional, experienced crew, the Oahu shark dive is completely safe as they know the predators' behavior, and the underwater cage provides proven safety against all different species of sharks. Whether you're in the cage with sharks right in front of you or watching from up in the boat, Oahu shark diving is a Hawaii activity you'll definitely never forget.
---
Day Cruises
Sail on a catamaran down Oahu's western coast during this cruise from Ko Olina. Glide through the unspoiled waters on this side of the island in search of dolphins and whales, then dive in for a snorkeling experience in a hidden local spot rich with marine life. Enjoy a Hawaiian buffet, including alcoholic and non-alcoholic drinks, before heading back to shore. Choose from three daily departure times. Round-trip transportation from select Oahu hotels is included.
6 hours

Free Cancellation

Taking safety measures
Learn More
6 hours

Free Cancellation

Taking safety measures
---
Whale Watching
Snorkel and swim with spinner dolphins off the west shore of Oahu during this full-day excursion. Sail up the Waianae Coast, then hop in the water to commune with green sea turtles, schools of tropical fish and dolphins. From January to March, you may get an up-close look at the migrating humpback whales. All necessary snorkel gear, lunch after the cruise and round-trip hotel transportation from Waikiki hotels are provided.
3 hours

Free Cancellation

Taking safety measures
Learn More
3 hours

Free Cancellation

Taking safety measures
---
Glass Bottom Boat Tours
Take a look at life underwater with this 1-hour glass-bottom boat tour that showcases the hidden treasures of Oahu's blue waters. Watch for dolphins and whales above the surface, and visit one of the four glass-bottom viewing stations to check out colorful marine life below. Whether you spot coral reefs, old sunken ship hulls, or schools of tropical fish, this tour of Waikiki coast will highlight the best of this beautiful destination.
---
Kid-Friendly
Experience the thrill of meeting sharks face-to-face in the pristine waters of Oahu on this educational, 2-hour, cage-diving adventure. See Hawaii's majestic hunters — Galapagos and Sandbar sharks in their natural environment — surrounded by the deep blue of the Big Island's popular North Shore. Observe from the safety of a floating cage. Stay on the surface, then using a mask and snorkel, look through large polyglass windows to watch the sharks as they gracefully glide by. No scuba experience is necessary. Hotel pickup and drop-off available.
---
Scuba Diving
Want to scuba dive while in Hawaii but don't have time to get certified? Try this guided, 5-hour ocean dive from Waikiki. It's not a scuba certification course but it is a quick, easy introduction to the underwater world, under the supervision of a Professional Association of Diving Instructors (PADI) member. Climb aboard a custom, 37-foot dive boat and experience Hawaii's fascinating underwater world, complete with colorful coral reefs and an abundance of marine wildlife. All the necessary diving equipment plus snacks and fresh water are included.
---
Snorkeling
Sail along the Leeward Coast of Oahu on this morning cruise. Snorkel with an expert guide and watch for spinner dolphins on this family-friendly adventure off the scenic southwestern coast of the island. This excursion, complete with spectacular scenery and fun water activities includes breakfast, lunch, and optional round-trip transportation from Oahu hotels
3 hours

Free Cancellation

Taking safety measures
Learn More
3 hours

Free Cancellation

Taking safety measures
---
Nature and Wildlife
Go snorkeling off Oahu's North Shore on a guided snorkeling tour. Head out to open water from the beach for the chance to see fish, green sea turtles, and other Hawaiian marine life in their native environment. Snorkeling equipment is provided. A private option is available if you prefer a more personalized experience or need assistance in the water.
Price varies by group size
---
Scuba Diving
If you've always wanted to try scuba diving — but never knew where to start — this beginning Oahu scuba dive is the key to a whole other world. Learn the basics of scuba theory and how to breathe underwater, and a professional instructor will ensure your safety and act as your underwater guide. There's no need for prior diving experience as the dive is in shallow water, and once you demonstrate basic skills and are comfortable breathing underwater, you're ready to follow your guide toward the reef and scour the ocean floor.
3 hours

Free Cancellation

Taking safety measures
Learn More
3 hours

Free Cancellation

Taking safety measures
---
---