Thrill-Seeker's Guide to Oahu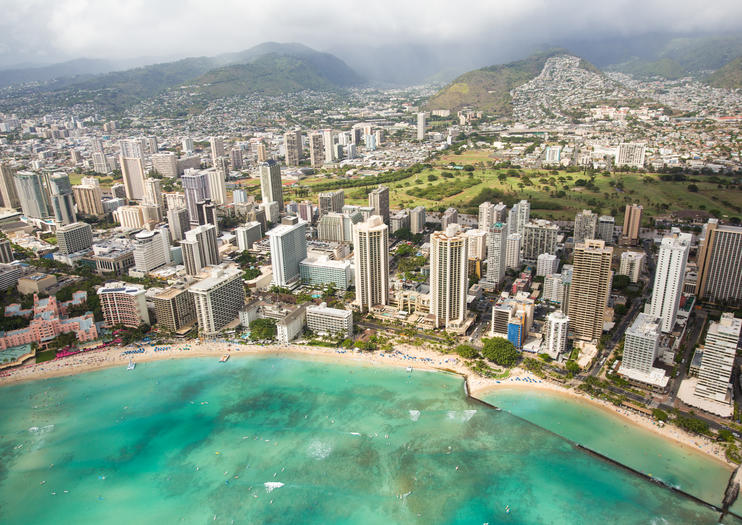 If you see the great outdoors as a playground, then Oahu has got you covered in spades. From taking part in high-intensity water sports and zooming around the landscape on an ATV or zipline to diving beneath the waves to see the ocean's top predators, here are the top Oahu experiences for thrill-seekers.
Follow winding dirt two-tracks on an ATV tour through scenery used in filming Jurassic Park, George of the Jungle, and The Hunger Games at Kualoa Ranch.

Hike to the top of some of Hawaii's most iconic volcanic remnants for dizzying panoramic views. Try Diamond Head or Koko Head Crater before attempting the ridiculously steep slopes of the Ko'olau Mountains along the island's windward coast.

Slip beneath the water's surface to get a look at the ocean's top predators on a shark cage dive departing from Haleiwa on the North Shore.

Soar 700 feet (213 meters) above the sea buoyed by a parachute on a parasailing adventure off Waikiki, or strap on a jet pack for a flying lesson in the waters east of Honolulu.

Feel the wind whip your hair while getting a bird's-eye view of the Hawaii scenery—lush valleys, pounding waterfalls, and shallow coral seas—from an open-door helicopter tour.

Lock in to the 14 tandem zipline cables that thread through the Ka'a'awa Valley.

Learn to surf the beginner breaks of Waikiki Beach, or, in winter, head to the North Shore to watch the experts ride giant waves topping 50 feet (15 meters).

Attempt one of the North Shore cliff jumps.
Read More
Show Less
Oahu Tours & Activities (14)
Nature and Wildlife
Snorkel with green sea turtles in Oahu's Turtle Canyon on this 2- to 3-hour tour departing from Waikiki. Board a power catamaran and sail along the shore of Oahu towards the island's best place to spot the resident turtles. Turtle sightings are guaranteed; if a turtle is not sighted, you will be given a free second cruise. After snorkeling, enjoy lunch (if option selected ) and two provided drinks while you keep your eyes peeled for passing marine life like dolphins and migrating whales. Snorkel equipment and round-trip transportation from Waikiki hotels is included.
3 hours

Free Cancellation

Taking safety measures
Learn More
3 hours

Free Cancellation

Taking safety measures
---
Snorkeling
Swim within safe viewing distance to dolphins and green sea turtles on this popular Oahu snorkel cruise from Honolulu. Sail into waters home to spinner dolphins, and then glide alongside colorful fish, aboard a boat equipped with a 20-foot (6-meter) waterslide. Snorkel gear, kayaks, and paddleboards are available onboard to help you get the most of this outing. For lunch, enjoy a Hawaiian cheeseburger with fruit and lemonade. Hotel transport included.
4 hours

Free Cancellation

Taking safety measures
Learn More
4 hours

Free Cancellation

Taking safety measures
---
Kid-Friendly
Set out from Oahu's scenic North Shore to the depths of the big blue Pacific, where you have the chance to observe wild sharks from inside an underwater shark cage. Thanks to your professional, experienced crew, the Oahu shark dive is completely safe as they know the predators' behavior, and the underwater cage provides proven safety against all different species of sharks. Whether you're in the cage with sharks right in front of you or watching from up in the boat, Oahu shark diving is a Hawaii activity you'll definitely never forget.
---
Whale Watching
Snorkel and swim with spinner dolphins off the west shore of Oahu during this full-day excursion. Sail up the Waianae Coast, then hop in the water to commune with green sea turtles, schools of tropical fish and dolphins. From January to March, you may get an up-close look at the migrating humpback whales. All necessary snorkel gear, lunch after the cruise and round-trip hotel transportation from Waikiki hotels are provided.
3 hours

Free Cancellation

Taking safety measures
Learn More
3 hours

Free Cancellation

Taking safety measures
---
Parasailing
Fly over the sparkling waters of Oahu on 1-hour parasailing adventure in Waikiki. Hop aboard your 12-person boat, soaring up into the skies with one or two other people for 10 minutes. Then, spend the rest of your hour gliding across the ocean, keeping your eyes peeled for dolphins, tropical fish and sea turtles. This small-group tour includes hotel pickup and drop-off for up to 12 travelers, and offers both morning and afternoon departures.
1 hour

Free Cancellation

Taking safety measures
Learn More
1 hour

Free Cancellation

Taking safety measures
---
Ziplining
Feel the adrenaline rush of soaring from the top of Oahu's longest ziplines on this guided tour. Start with a short ATV ride to the top of a mountain. Then enjoy spectacular panoramic ocean and mountain views of Oahu's famous North Shore from long, high and extra-quiet ziplines ranging from 500 to 2,400 feet. Along the way, encounter rappels, sky bridges, scenic boardwalks, and a couple of surprises for some fun activities that challenge in a safe and controlled way.
3 hours

Taking safety measures
---
Ziplining
Zipline through the Ka'a'awa Valley rainforest on this tour at Kualoa Ranch. Fly safely down fourteen tandem cables, then cross two suspension bridges that swing over rushing streams. Learn about the native plant and animal life that abounds in this lush valley from your experienced adventure guides, who are there to ensure your comfort and safety. No zipline experience is necessary.
2 hours&nbsp30 minutes

Free Cancellation

Taking safety measures
Learn More
2 hours&nbsp30 minutes

Free Cancellation

Taking safety measures
---
Plantation Tours
Fly aboard an open-door helicopter over Oahu for unobstructed views of the island on this tour. Feel the high-flying wind in your hair and, with your camera out and ready to snap stunning photos, listen as your pilot narrates your flight over sights like Pearl Harbor, Honolulu Harbor, Hanauma Bay and the Halona Blowhole. This excursion includes a DVD of the flight and round-trip transportation from selected hotels.
---
Kid-Friendly
Experience the thrill of meeting sharks face-to-face in the pristine waters of Oahu on this educational, 2-hour, cage-diving adventure. See Hawaii's majestic hunters — Galapagos and Sandbar sharks in their natural environment — surrounded by the deep blue of the Big Island's popular North Shore. Observe from the safety of a floating cage. Stay on the surface, then using a mask and snorkel, look through large polyglass windows to watch the sharks as they gracefully glide by. No scuba experience is necessary. Hotel pickup and drop-off available.
---
Parasailing
Go parasaling over Maunalua Bay on this 1-hour adventure from Honolulu. Choose from two flights that take you 500 feet (152 meters) or 700 feet (213 meters) in the air for views of the Ko'olau Mountain Range, Koko Head and the Hawaii Kai coastline. GoPro videos and digital photos of your tandem flight and dip in the warm ocean water are available upon return to land. Round-trip transportation from Waikiki hotels is available. 
---
Surfing
Nothing is more iconic to Hawaii than surfing at Waikiki Beach. This is arguably the place where surfing was born, and the spot where watermen like Duke Kahanamoku helped introduce surfing to the world. The reason why this south facing coast is so perfect for learning to surf, is the fact that the bottom is soft, sandy, and the water is relatively shallow. During this surf lesson in Waikiki, you'll also notice the way the waves have a steady and gentle roll, which makes them far less intimidating than other waves on Oahu. Add in a long, stable board and a professional local instructor, and before you know it you'll be surfing a wave like ancient Hawaiians of old.
1 hour&nbsp30 minutes

Free Cancellation
---
4WD Tours
Get wet, have fun and hang on tight as you ride a 6-person banana boat along Maunalua Bay from Waikiki. Take in scenic views of Koko Head and the Ko'olau Mountain Range as the captain tows the inflatable boat through warm, shallow water. You can watch from the speedboat or head for the water on this hour-long, family friendly activity along Oahu's beautiful coast.
45 minutes

Free Cancellation
---
Jetpacks
Soar 30 feet (9 meters) above the waters of Oahu with a water-propelled jetpack on this adventurous experience. After a certified instructor gives you a safety briefing and training on how to use the pack, practice walking on water, deep-water landings, elevation control and steering while enjoying views of Maunalua Bay. No experience is necessary, and observers are welcome to enjoy views of Koko Crater, Koko Head and the Ko'olau mountain range.
15 minutes

Free Cancellation
---
Hiking
Explore the beautiful island of Oahu on this 3-hour biking adventure led by a nature guide. This family-friendly excursion will take you through Hawaii's tropical rainforests and to scenic lookout spots over Manoa Valley and Waikiki. All equipment is included, as well as lunch and hotel pickup and drop-off. Extend your adventure by upgrading to a 2-mile hike through the rainforests with your guide.
---
---