Don't-Miss Dishes in New York City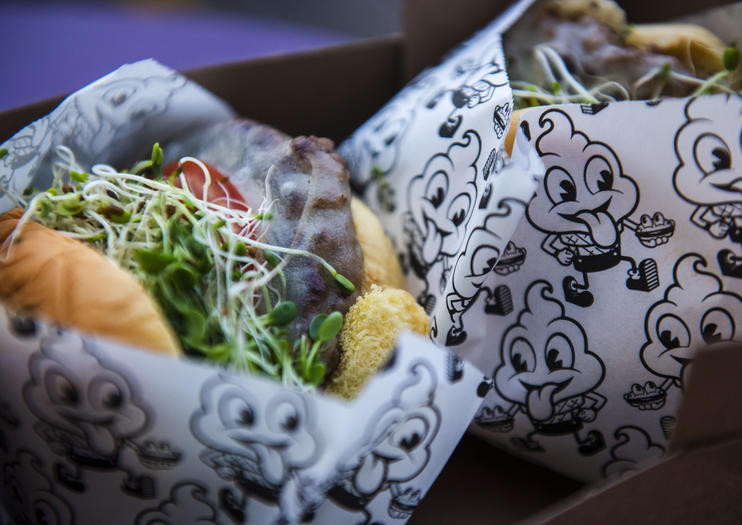 The Big Apple delivers big flavor no matter the time of day (or night). No trip to New York City is complete without tasting its signature dishes. From New York-style pizza to bagels and lox to towering pastrami sandwiches, here are some of New York's must-try dishes.  
Pizza
To start a fierce debate among New Yorkers, ask about the city's best pizza. In this pizza-obsessed city, you can hardly walk a street without seeing a shop selling slices—just as perfect for lunch as for a late-night snack. For the full pie treatment, seek out traditional coal-oven, Neapolitan-style, or even Sicilian.
Bagels and Lox
The hand-rolled, kettle-boiled bagel is a thing of beauty: crisp on the outside with a tender interior. In New York's traditional appetizing shops, bagels are sliced in half and topped with cream cheese and lox.
Bacon, Egg, and Cheese
New York City is fueled every morning by the noble bacon, egg, and cheese sandwich. Whether from the corner bodega or the fancy brunch joint, this sandwich is the start of a good day—salt, pepper, and ketchup optional.  
Pastrami Sandwich
One of the classic bites of New York City, the hefty pastrami sandwich includes a pile of hand-carved smoked meat and mustard on rye bread—pickle on the side.
Gourmet Burgers
Burgers are serious business in New York—no steakhouse or tavern menu would be complete without a signature burger. There are special meat blends with short rib, toppings both classic and upscale (Roquefort cheese, anyone?), and a variety of buns from potato rolls to brioche.
Dim Sum
The Chinatown dim sum experience is alive and well in New York City. Graze on a variety of dim sum over a leisurely brunch or try other Chinatown specialties from soup dumplings to Peking duck.
Read More
Show Less
New York City Tours & Activities (10)
Half-day Tours
From stroopwafel to mozzarella to knishes; there are many amazing eats on Manhattan's Lower East Side. On this small-group walking tour, discover the neighborhood's diverse cultural heritage and learn how its immigration history has influenced its dynamic foodie scene. Along the way, visit markets, bakeries, and restaurants, and sample delicacies from all around the world.
---
Day Trips
Take a bite out of New York City's hippest borough on this half-day Brooklyn food and culture tour. From traditional ethnic eateries to culinary hotspots that spark national dining trends, your guide will show you where to eat like a local. Snack on kielbasa and pierogis in the Polish enclave of Greenpoint, satisfy your sweet tooth in DUMBO, and get a taste of farm-to-fork freshness in trendy Williamsburg. Vegetarians can be accommodated.
5 hours

Free Cancellation

Taking safety measures
Learn More
5 hours

Free Cancellation

Taking safety measures
---
City Packages
Most visitors to Greenwich Village never get past its contemporary vibe, but with this tour through the Village and MacDougal Street, you can enjoy the insights of an insider guide to experience the authentic side of the neighborhood. Visit local haunts and historic sites, follow the footsteps of the Village's most famous beatniks and bohemians, and sample classic New York foods at landmark eateries.
2 to 3 hours

Free Cancellation
---
Half-day Tours
Brooklyn is packed with pizzerias, but knowing where to go for a quality slice can be a challenge. On this sightseeing and pizza bus tour from Manhattan, explore one of New York City's trendiest boroughs from end-to-end, seeing Dumbo, Sunset Park, Bay Ridge, and Coney Island. Along the way, stop at two of Brooklyn's best pizzerias to sink your teeth into Neapolitan- and Sicilian-style slices.
---
City Packages
Experience some of the hidden gems of Hell's Kitchen you'd miss if exploring on your own during this walking food tour of the neighborhood. Listen to your guide's historic and cultural commentary on the famous neighborhood while walking its streets and tasting some of the city's best ethnic food with a small group of up to eight people.
---
City Packages
Pizza is a huge NYC go-to for locals, and only a local knows the best places to grab the tastiest pizza. During this pizza walking tour of Manhattan, follow a guide, and stop in at three unique and highly rated pizzerias to sample different slices, from Neapolitan to Sicilian. Along the way, learn about the fascinating history and culture of the neighborhoods you walk through.
---
City Packages
New York City has some of the best street food in the world, but if you don't know where to go, you could totally miss out on it. Discover the culinary delights of New York City's food cart scene on this guided walking tour. Visit several of NYC's food carts and food trucks and sample dishes served up right on the street.
---
Half-day Tours
This Chinatown food and historic Downtown walking tour is the perfect way for first-time travelers to explore neighborhoods in Lower Manhattan and make the most of their time in the city. Learn about the culture, traditions, and landmarks of New York City's Chinatown, and sample some delicacies from local shops. Then, wind your way through historic Downtown, where you'll see Stone Street, the oldest neighborhood in Manhattan.
---
City Packages
If you're in New York City and want to tick Grand Central Terminal off your list, it can be hard to see every detail of this station during it's busy working hours. This Grand Central tour is perfect for anyone trying to get a closer look at the art, architecture, and history of NYC's famous terminal. See its Tiffany clock and hidden Campbell Apartment, while hearing stories about the city's golden age of rail.
1 hour&nbsp30 minutes

Free Cancellation
---
Full-day Tours
New York City's Lower East side is home to many cultures and plenty of good food. Focus primarily on this area's Jewish culture during this food tour. Start your tour with NYC's most iconic food—the bagel—and follow your guide to bakeries, delis, candy shops, and markets that celebrate Jewish heritage. Visit synagogues, museums and local landmarks to hear stories about daily life and traditions in this colorful NYC community.
2 hours&nbsp30 minutes

Free Cancellation
Learn More
2 hours&nbsp30 minutes

Free Cancellation
---
---