Montreal Underground City Tours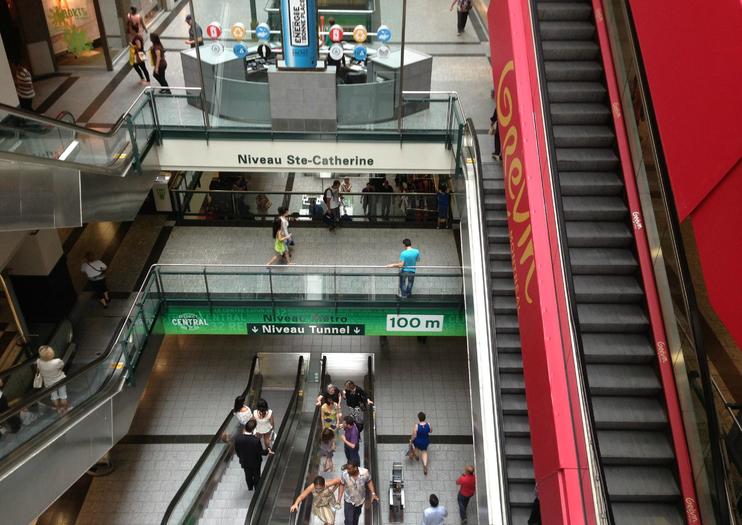 Montreal's Underground City (or RÉSO) is a vast indoor complex that extends across a large portion of Downtown Montreal. Subterranean tunnels connect malls, hotels, cinemas, theaters, offices, museums, banks, universities, and metro stations, serving as a warm refuge during the city's brutal winters. 
The Basics
With some 20 miles (33 kilometers) of tunnels, 190 access points, and thousands of shops, the Underground City can be something of a maze, especially to the uninitiated. To avoid getting lost, consider joining a guided tour. Tours of the complex show off highlights of the underground realm, which features everything from shopping malls to public artworks and even a segment of the Berlin Wall. 
Some tours split their time between the Underground City and the ground-level attractions of Downtown Montreal, stopping at landmarks such as Christ Church Cathedral and the monument-dotted Dorchester Square.
Things to Know Before You Go
The Underground City is a must for visitors who want to shop, eat, or simply escape the frigid winter temperatures. 

Find Underground City maps at Montreal metro stations.

Many of the major complexes, malls, and attractions in the Underground City are wheelchair-accessible with street-level access and elevators, though some of the tunnels and metro stations are not. 

How to Get There
Access points to the Underground City can be found throughout Downtown Montreal. Easy-to-find entrances include malls such as the Eaton Centre, Les Cours Mont-Royal, and Complexe Desjardins. The underground complex is also connected to metro stations, including Atwater, Peel, McGill, Place des Arts, Berri UQAM, Bonaventure, Square-Victoria, and Place d'Armes. Entrances to the Underground City are marked RÉSO. 
When to Get There 
With heating and air-conditioning keeping temperatures in the tunnels pleasant, the best time to visit is during extreme weather—whether that be humid summer days or the freezing chill of winter. 
What to See in the Underground City
For shopping, head to the Eaton Centre and Complexe Desjardins, where you'll find high-street chains, independent stores, cafés, restaurants, and fast-food outlets. For something a little more cultural, browse the exhibits at the Montreal Museum of Contemporary Art (Musée d'Art Contemporain) or head to the Palais des Congrès de Montréal, which hosts numerous conventions and events every year, including Montreal Comiccon. For a bird's-eye view of the city, ascend to the 607-foot-high (185-meter-high) observation deck at Place Ville Marie. 
Address:
800 Rue de la Gauchetière O, Montreal, Quebec, Canada
Read More
Show Less
6 Tours and Activities to Experience Montreal Underground City
Explore the city of Montreal and RESO on this 1.5-hour tour of downtown Montreal and The Underground City, also known as RESO. Stroll down St. Catherine Street as you tour Montreal, and stop by the Christ Church Cathedral, Les Cours Mont-Royal, and Dorchester Square. Then head underground to RESO, the city which was started in 1962, to experience its hotels, shops, restaurants, and bars.
Face masks required for travelers in public areas
Face masks required for guides in public areas
Hand sanitizer available to travelers and staff
Taking safety measures
---
Travel from historic Old Montreal to the borough of Plateau Mont-Royal on this walking tour of the city. Visit the ornately decorated Basilica then wander the streets of Vieux-Montréal while learning about the city's history and checking out its street art. Plus, make stops in the entertainment district and Chinatown.
---
Discover the amazing cultural mosaic of the city of Montreal beyond its traditional bi-cultural image. Learn about the city and how immigration shaped its development in the 20th century. On top of that, have a taste of Montreal specialties. The tour will start with a short walk that takes you through the oldest streets of Montreal. Your guide will take you for a drive through Chinatown and the Quartier des Spectacles where most Montreal cultural events and performances take place. You will then visit downtown and go for a short discovery visit of the city's famous Underground City. The Multicultural Mile-End neighborhood will be next to visit before heading towards Little Italy, the traditional center of Italian culture and gastronomy in town where you will visit le marché Jean-Talon, North America's largest farmers' market. The Tour will then be concluded with a visit of the famous Le Plateau Mount-Royal neighborhood where you will discover its hidden charms.
Price varies by group size
Price varies by group size
Face masks required for travelers in public areas
Face masks required for guides in public areas
Face masks provided for travelers
Taking safety measures
---
Discover Montreal and its unique blend of French and English culture with a fun local guide that knows all the ins and outs of the city! Tours are private walking tours that are customized to your preferences and last between 2 and 6 hours at your request. Please note that you will never be grouped with people you don't know. The tour guides are just regular people living in the city you're visiting, that way you can learn about the city through their stories. Your guide will meet you at a location of your choosing, be it your hotel or other accommodation, a landmark, or even a metro station inside the Montreal urban center. Children below 3 years old are free of charge. Children from 3 to 15 get 60% off the regular tour price. If you are unsure of what you would like to see, your guide will suggest different paths which revolve around Old Montreal, Downtown, Chinatown, The Underground, Quartier des Spectacles, La Cathédrale de Notre-Dame, The Olympic Stadium, and more!
---
Explore two iconic areas of Montreal with one tour! This tour is the perfect way to sample the best of both the Underground City and Old Montreal. Start with a jaunt in some of the more interesting tunnels, complexes and buildings connecting the world famous underground pedestrian network. Admire art, architecture, atriums and learn about the importance and history of the "RESO" tunnel system. Next, the tour emerges in the fascinating and beautiful historic district of Old Montreal. Stroll along the cobblestone streets lined with heritage buildings and enjoy public squares bursting with Old World charm. Learn about Montreal's intriguing past as you soak up the enchantment of the old city. Small group tour with maximum of 10 people.
Social distancing enforced throughout experience
Taking safety measures
---
Go for an urban discovery in Montreal! You will meet the real Montrealers and learn about their lifestyle. You will visit Downtown, markets and shopping areas. You will visit the Montreal underground city and get to use the subway. Your tour will start from Place du Canada where you meet your Montrealer guide and learn about the building that dominate downtown landscape. You shall than follow your guide to visit the underground city and see two of the most reputed shopping centres in town; Les Cours Mont-Royal and Le Centre Eaton de Montreal. Next stop will be at McGill's campus where you will learn about one of the most prestigious Canadian universities and the Golden Square Mile, where the richest Canadians families resides in the 19th and early 20th century. Take the subway with your guide to One of the most attractive farmers markets in Montreal, Atwater Market and admire the nearby Lachine Canal. The 3 hours tour will be concluded by a quick visit of Atwater Market.
Price varies by group size
Price varies by group size
Face masks required for travelers in public areas
Face masks required for guides in public areas
Hand sanitizer available to travelers and staff
Taking safety measures
---
Frequently Asked Questions
The answers provided below are based on answers previously given by the tour provider to customers' questions.
Q:
What's the best way to experience Montreal Underground City?
---