Polish Pilots Park (Park Lotników Polskich) Tours and Activities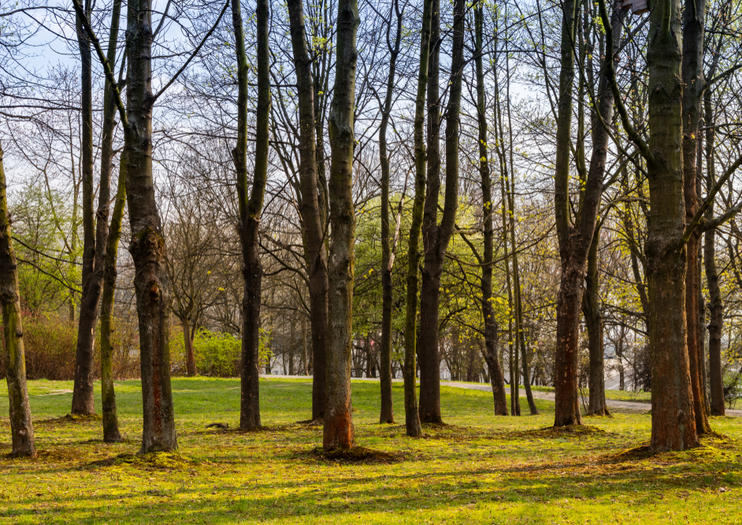 This park (which is sometimes also translated as the Polish Airmen Park or the Polish Aviators Park) is an airy green space in east-central Krakow. The tree-lined area features a monument to Poland's heroic World War II pilots, a children's playground, and the Stanisław Lem Science Garden, which boasts interactive science models.

The Basics
Polish Pilots Park is popular with travelers visiting the Polish Aviation Museum next door and with runners and cyclists. A highlight is the Stanisław Lem Science Garden, known in Polish as Krakowski Ogród Doświadczeń or Ogród Doświadczeń im. Named for the science fiction writer Stanisław Lem, the garden features a wealth of interactive models demonstrating the laws of physics, from acoustic devices to a giant prism, as well as a maze and a rock display.
Things to Know Before You Go
The Polish Pilots Park is a great choice for families. Runners will also appreciate its network of shady paths.
There are food trucks, coffee carts, and ice cream vendors in the area during the summer, and the park is also an excellent place to bring a picnic.
Wide, smooth paths and a generally mellow gradient make the park wheelchair friendly.
To enter the Stanisław Lem Science Garden, you'll need to buy tickets, which are available online and in the park.
How to Get There
The Polish Pilots Park is in eastern Krakow, about a 2.5-mile (4-kilometer) drive from Main Market Square. From Krakow Glówny Rail Station, catch the number 5 tram and get off at the fifth stop, the Polish Aviation Museum (Muzeum Lotnictwa).
When to Get There
The Polish Pilots Park is open 24 hours a day, seven days a week, and is especially attractive when the fall colors are on display. The Stanisław Lem Science Garden is only open between late April and October and closes in the evening.
What Did the Polish Pilots Do in World War II?
As the Polish Pilots Park attests, Polish pilots remain some of the unsung heroes of the Second World War. Soviet Russian and Nazi German forces defeated Poland in just five weeks, but many pilots made their way first to France and then to Britain. The No. 303 Polish Fighter Squadron was the most successful air unit in the Battle of Britain, downing at least 126 enemy planes, including 14 or more in a single sortie.
Address:
Krakow 31-571, Poland
Read More
Show Less
0 Tours and Activities to Experience Polish Pilots Park (Park Lotników Polskich)
---