Cloth Hall (Sukiennice) Tours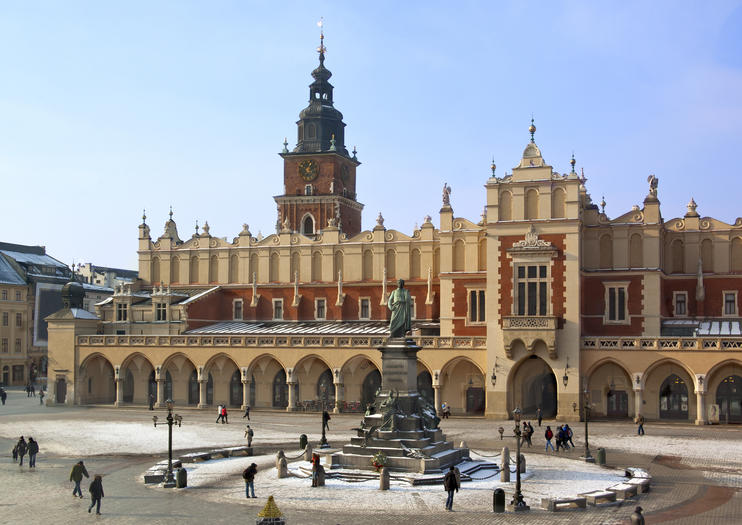 The focal building of Krakow's fanciful Main Square (Rynek Główny), the Cloth Hall (Sukiennice) has stood in the same spot in various forms for about 800 years but was originally built to house the local textile traders. From its humble beginnings as a small open-air market, the Renaissance-style hall is now 354 feet (108 meters) long and hosts Krakow's biggest and best souvenir market, with stalls on the ground floor selling painted eggs, amber jewelry, wooden puppets and organic goods. The hall is gloriously floodlit by night.
On the first floor of the Cloth Hall is the charming, revamped Gallery of 19-Century Polish Art (Galeria Sztuki Polskiej XIX wieku w Sukiennicach). It reopened in 2010 after an extensive facelift, and its artwork hangs in elegant Renaissance salons. The highlights are the two massive satirical works by Polish nationalist artist Jan Matejko.
Well below ground and actually constructed underneath the Cloth Hall, a fairly new addition to Krakow's museum scene is the Podziemia Rynku (Rynek Underground). Romping through Krakow's turbulent backstory from prehistory to modern day, the high-tech museum uses interactive displays, special effects, informative touchscreens and holograms to engage the public. After some five years of construction, during which time the Main Square was partially under cover, the museum finally opened in 2010. 
Practical Info
Cloth Hall is located in Krakow's Main Square. It is open daily from 10 a.m. until 7 p.m., while the Gallery of 19th-Century Polish Art is open Tuesday through Sunday from 10 a.m. until 6 p.m., with extended hours until 8 p.m. on Friday and Saturday. Admission to the gallery costs 12PLN. Rynek Underground opens at 10 a.m. daily but is closed every first Tuesday of each month. Admission costs 19PLN.

Address:
Rynek Główny 1-3, Krakow, Poland
Read More
Show Less
51 Tours and Activities to Experience Cloth Hall (Sukiennice)
Half-day Tours
Private walking tour in Krakow focusing on Johh Paul II sites in Krakow. Tour includes places connected with John Paul II in Krakow Old town and Sanctuary of Divine Mercy in Lagiewniki.
5 hours

Free Cancellation

Taking safety measures
Price varies by group size
Price varies by group size
Learn More
5 hours

Free Cancellation

Taking safety measures
---
Half-day Tours
We offer one of the most amazing and beautiful tours through the old town of the city of Krakow, also known as "The New Prague". It is one of the most visited tourist places in all of Europe thanks to its architectural richness. The tour will start at Rynek Market Square, which was declared a World Heritage Site by UNESCO. It is one of the oldest and best preserved medieval market squares in all of Europe. Little by little we will get closer to the Basilica of Saint Mary, a beautiful construction that we can admire and visit walk while the guide reveals all its secrets and tells us about its leading role in the history of Poland … If we are lucky, we´ll enjoy the notes of the trumpet that announces the arrival of a new hour of day. When we're done there, we will go to the Cloth Hall Market, the ideal place for souvenir shopping, in this place will get almost anything at a great price. At the end of the tour, your guide will drop you off in a central place of Krakow.
3 hours

Free Cancellation

Taking safety measures
Price varies by group size
Price varies by group size
Learn More
3 hours

Free Cancellation

Taking safety measures
---
Half-day Tours
Enjoy our amazing 4-hour private tour of Krakow with an official guide and chauffeured vehicle. In it you will know the most important places of one of the oldest cities in Poland. Tour the old town and discover one of the best preserved medieval squares in all of Europe, take a trip through the darkest corners of local history visiting some of the areas that served as locations for the famous Steven Spielberg film, "The Schindler's List". In addition, you can visit the Jewish Quarter of Krakow, while your guide tells you the history of the place and takes you to know The Old Synagogue and The Corpus Christi Church. Another place not to be missed is The Cloths Hall, it's a market or commercial area of ​​the town where you can buy all the souvenirs you want and even acquire certain unique pieces typical of the culture of Poland. At the end of the tour, your private driver and official tour guide will take you back to your hotel.
4 hours

Free Cancellation

Taking safety measures
Price varies by group size
Price varies by group size
Learn More
4 hours

Free Cancellation

Taking safety measures
---
---