Ways to Experience Tyrolean Culture in Innsbruck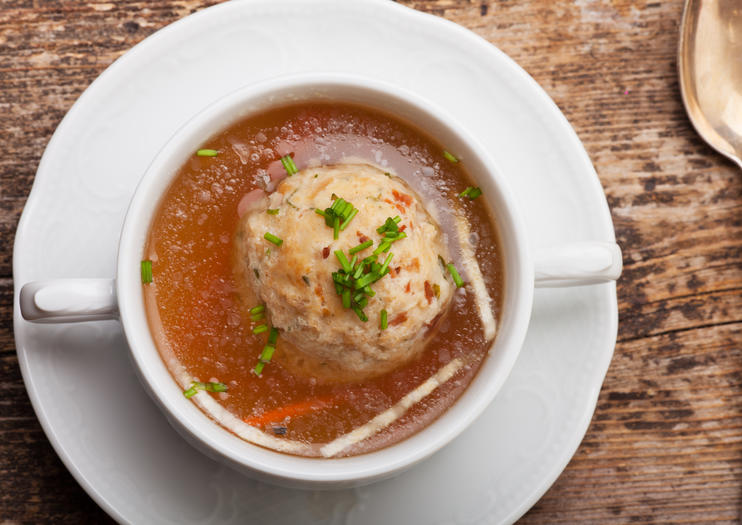 With the surrounding mountains cutting it off from other regions, isolated Tyrol (Tirol)—which spreads across western Austria and northern Italy—developed its own distinct identity and culture. From Tyrolean culinary specialties to local customs, here are a few ways you can experience Tyrolean culture in Innsbruck. 
Highlights
Feast on Tyrolean dishes such as creamy soup, speckknödel (bacon dumplings), and apple strudel during a multicourse Austrian dinner.

Attend a folk music and dance show and watch traditionally clad dancers yodel and perform the Schuhplattler, a fast-paced, shoe-slapping jig.

Shop for Tyrolean wood carvings and traditional clothing such as dirndls, lederhosen, and clothes made from loden, a thick wool material that has been worn in Tyrol since the Middle Ages. 

Gain insight into Tyrolean history by wandering Innsbruck's Old Town. Stop by the Hofburg, the palace built for Tyrol-born noble Archduke Sigmund the Rich; the Hofkirche, where Andreas Hofer, the leader of the 19th-century Tyrolean Rebellion against Napoleon, is buried; and the Ferdinandeum, part of the Tyrolean State Museums (Tiroler Landesmuseen), where local artworks are showcased.

Ride a cable car in the Nordkette mountains, where you can try out typical Tyrolean winter sports, from skiing and snowboarding to snowshoeing and sledding.

Visit Swarovski Crystal World to see displays and art installations made using crystals produced by one of Tyrol's most successful homegrown brands.

Attend Perchtenlauf, a custom during which locals parade down the streets wearing scary masks and carrying canes and sticks. Perchtenlauf, which has taken place here since pagan times, happens in late November or early December. 

Come to Tyrol in autumn to witness the ceremonial return of the grazing cattle following the summer season. As the local farmers herd their livestock from Alpine pastures to the valley, the community celebrates. The animals are adorned with colorful garlands, ribbons, and flowers. 
Read More
Show Less
Innsbruck Tours & Activities (11)
Day Trips
Indulge in a day of breathtaking natural landscapes and manmade treasures on a full-day trip to Innsbruck and Swarovski's Crystal World from Munich. Accompany a friendly local guide on a scenic journey through Bavaria and cross the border into Austria, where you'll stop first at the Swarovski museum for a breathtaking stroll through crystal-bedecked exhibitions. Then explore the colorful streets of Innsbruck, two-time venue of the Winter Olympic Games.
10 hours&nbsp30 minutes

Free Cancellation

Taking safety measures
Learn More
10 hours&nbsp30 minutes

Free Cancellation

Taking safety measures
---
Private and Luxury
Satisfy your sweet tooth on a 2.5-hour Tyrolean food and drink tour in Innsbruck. Visit a local bakery and traditional shops to sample a variety of sweet treats native to the Tyrol region. Be sure to come hungry, as you eat more than a full meal's worth of culinary delights along the way. Coffee and alcoholic drinks are also included in the dynamic and delicious tour.
2 hours&nbsp30 minutes

Free Cancellation
Learn More
2 hours&nbsp30 minutes

Free Cancellation
---
Cultural Tours
Discover the fresh ingredients and traditional flavors of Austria's Tyrol region on this half-day food-lover's tasting tour in Innsbruck. Follow your guide through the streets of Innsbruck, and explore bustling markets such as the popular Markthalle Innsbruck. Sample locally made cheeses, chutneys, meats, and more, and hear the hidden stories behind some of Austria's most delicious dishes. Be sure to start your tour both hungry and thirsty!
---
Private Sightseeing Tours
Visit the famous Bergisel Ski-Jump Area - a landmark and must-see in Tyrol and Innsbruck. 3x Olympic Games in these Arena makes it so famous. Brilliant Architekture and a famous view from the top of the building makes it so fascinating. Hear the story of nearly 100 years of ski-jump history at these place, but also other interesting stories about the history of the Bergisel - one of the most popular palces in the tyrolean history.
Price varies by group size
---
Private and Luxury
In this tour, you will see: - A protected park located on the edge of the Altstadt. - One of the three most significant cultural buildings in the country. - The tomb of Andreas Hofer, Tyrol's national hero. - One of the most venerated Marian images in the Christendom. - The city's most famous symbol. - The Tyrolean State Museum Ferdinandeum Society.
---
Cultural Tours
Innsbruck • Panorama Tour Innsbruck • Gay Tour & Imperial Palace's Secrets  Innsbruck by Night • Gay Tour • Gay or Lesbian Tour Guide for City Tour (3 hours) • Entrance Fee – Imperial Palace
3 hours

Taking safety measures
Price varies by group size
Price varies by group size
Learn More
3 hours

Taking safety measures
---
Mountain Bike Tours
Mountain bike, one of the most diverse mountain sports ever. With us it is all about singletrack. Our tours do not waste unnecessary depth meters on wide trails and are thus perfect for ambitious mountain bikers. We are traveling with our events on breathtaking trails throughout the Alps. Starting with day tours in the Tyrolean region, over weekend trips in the Dolomites to biking trips to France or Transalp everything is there. E-mountain bikes are also welcome.
Price varies by group size
---
Nature and Wildlife
We take care of bike rental, guided bike tours and your accommodation as well as the transfer from one of the nearest airports / train stations to the accommodation. All that's left for you to do is enjoy your stay!
---
Multi-day Tours
Everywhere you can find typical dishes on the maps of the restaurants. Be there with them, how they are made and see which work steps are necessary especially in the mountains.
---
Day Trips
Visit a traditional family Austrian cheese factory using methods passed down the generations since the 16th Century. Whilst successfully introducing modern bio-production technologies into the traditional craft of cheese making, the cheeses are stored and matured in local caves and it is here that the real magic of these special cheeses comes to life. After passing through the village and farmland where our cows graze on beautiful clean Alpine pastures, you will visit a cave where our cheeses are stored and matured (over 10,000 cheese truckles). Then you will try some in our tasting room, set within the majestic rock. You'll learn about the history of the family business, the production, maturing and varieties of cheeses and of course get to taste them. See if you can distinguish between the noble varieties of cheese and taste the best of Tyrolean cheeses where they were created, in these wonderful mountains.
5 hours

Free Cancellation

Taking safety measures
Price varies by group size
Price varies by group size
Learn More
5 hours

Free Cancellation

Taking safety measures
---
Theaters
Soak up Tyrolean music and folk dancing during this show in Innsbruck. Settle into your seat at Alpensaal" show venue in the city center and watch the Gundolf family perform the Schuhplattler, a fast-paced dance, along with other traditional steps that have been passed down through many generations. To treat your taste buds to a hearty helping of Austrian cuisine, upgrade to include a 3-course meal, including delicious regional specialties.
3 hours

Free Cancellation

Taking safety measures
Learn More
3 hours

Free Cancellation

Taking safety measures
---
---