Iguaçu Falls (Cataratas do Iguaçu) Tours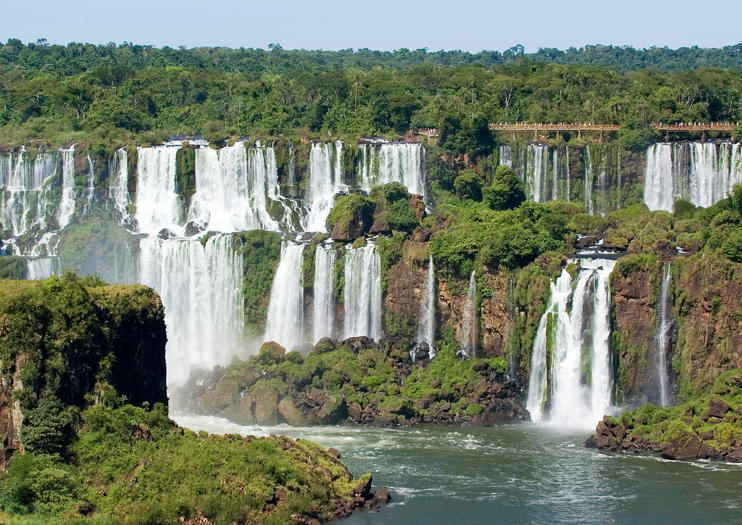 Iguaçu Falls (Cataratas do Iguaçu), the largest waterfalls system in the world, are truly awe-inspiring to behold. Though Argentina boasts better trails around the falls, Brazil is blessed with the best views of this natural marvel's 275 separate cascades, which span the border between the two countries. Take in full-frontal views of Devil's Throat (Garganta del Diablo), San Martin Island, and more from the short-but-sweet catwalks that wind their way around the Brazilian side of Iguaçu Falls.
The Basics
The best way to experience the Brazilian side of Iguaçu Falls is by hiking the catwalks. Though less forested and natural than the Argentinean trails, you'll find significantly better panoramic views of Iguaçu Falls in all its unforgettable glory—and they even offer an elevator to a postcard-perfect viewpoint over Devil's Throat, considered the most spectacular scene in the park. Ensure sight of the best vistas by joining a guided tour of Iguaçu National Park; opt for a small-group tour that fills you in on the fall's folklore and geologic history, or take a cruise right beneath the cascades. And only on the Brazilian side can you take a helicopter ride for aerial views over the falls or an above-the-falls rafting trip on the Parana River.
Things to Know Before You Go
Plan to spend a half day walking the catwalks on this side of the falls.

Although the Brazilian side is generally drier than the Argentinean side, it is still wise to pack rain gear and to put your valuables and electronics in waterproof bags.

Many tours begin on one side of the falls and then cross the border, making it easy to see both sides on a single trip (if not in a single day).

If crossing the border without joining a guided tour, be sure to check visa requirements for your country.

How to Get There
The closest Brazilian town to Iguaçu National Park is Foz do Iguaçu. Catch a bus from town to the park for only a few dollars; buses and taxis also run directly from the airport. Foz do Iguaçu is a two-hour flight from Rio de Janeiro. Note that Foz do Iguaçu has more lodging, restaurants, and other traveler amenities than Argentina's gateway-to-the-falls town, Puerto Iguazu. This side of the falls also offers guided tours to nearby sights such as Bird Park, Itaipu Dam, and the Brazil-Paraguay border.
When to Get There
Iguaçu Falls is accessible year-round. For the best weather and the smallest crowds, plan to go between July and October or February and April. Morning visits reward with rainbows in the ever-present mist of Devil's Throat.
Big Water
Iguacu translates to "big water" in the Tupi or Guarani language—a fitting name considering that water tumbles over the cascades at a rate of 5,300 cubic feet (1,500 cubic meters) per second. That's enough water to fill an Olympic-sized swimming pool in under two seconds!
Read More
Show Less
Admission Tickets (1)
The Ecomuseum, the first Latin American initiative of this type, comprises the territory where Itaipu operates as a museum space. In this way, it undertakes actions aimed at preserving, researching and communicating the cultural heritage, memory and history of the region where the Plant was established, as well as promoting its cultural development in a sustainable manner.
55 Tours and Activities to Experience Iguaçu Falls (Cataratas do Iguaçu)
Frequently Asked Questions
The answers provided below are based on answers previously given by the tour provider to customers' questions.
Q:
Should I book Iguaçu Falls (Cataratas do Iguaçu) tickets in advance?
Q:
How much does it cost to visit Iguaçu Falls (Cataratas do Iguaçu) 2020?
Q:
What's the best way to experience Iguaçu Falls (Cataratas do Iguaçu)?
---