Playa Lagun Tours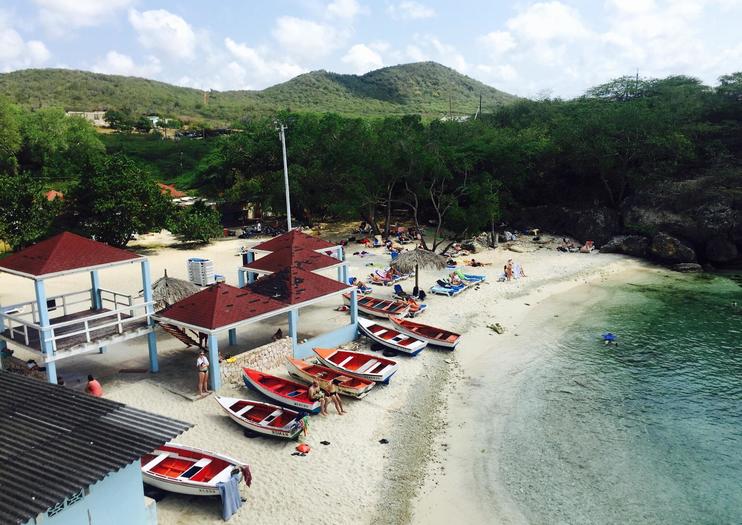 A protected beach within a deep cove and flanked on both sides by sheer cliffs, Playa Lagun is near the northern end of the island, far enough from Willemstad to avoid the cruise crowds. This off-the-beaten-path strand is known as one of the best spots for diving and snorkeling from the Curacao shore.
The Basics
A small beachfront restaurant doubles as a dive shop for snorkeling and diving gear, allowing you to easily explore the nearby reefs that are home to colorful fish, schools of squid, and sea turtles, as well as coral and large sponges. Some snorkeling tours combine stops at Shete Boka National Park with a visit to Playa Lagun.
Things to Know Before You Go
The calm, shallow waters of Playa Lagun make this a good spot for snorkelers of any skill level.
Beach chairs are available for rent.
You can purchase food from the concession stand and mobile vendors on-site, and the beach has plenty of picnic tables.
There are no public restroom facilities at Playa Lagun.
How to Get There
Playa Lagun is about a 35-minute drive northwest of Willemstad (where the cruise ship terminal is located) and about 7 minutes south of Westpunt. Since public bus service can be limited, renting a car is recommended; parking is available at the beach. Tours typically include round-trip transportation from most hotels.
When to Get There
Like most beach destinations, Playa Lagun can get crowded on the weekends, but it is generally calm compared to other beaches on Curacao. But if possible, try to visit the beach during the week, when it's almost empty. If you're snorkeling, the best chance to spot green sea turtles is in the morning.
Shete Boka National Park
Although Shete Boka technically means "seven inlets," this park boasts more than 10 such coves within its protected area of rocky terrain. Here, on the island's northern coast, you can explore the limestone bluffs and the inlets that serve as sea turtle nesting grounds. The park is located about a 30-minute drive from the airport.
Read More
Show Less
7 Tours and Activities to Experience Playa Lagun
Explore Playa Lagun and Shete Boka National Park during this full-day eco-adventure in Curacao. Ride in an open-top Jeep across desert plains to explore the northern coastline's rocky cliffs. Visit Lagun Beach (or another beach nearby) to snorkel in the shallow azure waters. See hawks, frigate birds and sea turtles in their natural habitat with commentary from your local guide. Stop by a natural fountain to bask in the warm waters. All equipment and round-trip transportation from Curacao hotels are included.
---
Visit Curaçao's finest beaches and most pristine coral reefs. Snorkel at the famous Blue Room Cave, encounter the curious sea turtles at Turtle Bay and relax at a secluded, intimate beach! Enjoy a live cooking BBQ buffet, ice cold drinks while cruising along the beautiful coastline of Curaçao. Optional diving at "Mushroom Forest".
---
Take this private Curacao island tour, and explore what you want to and what interests you most. Customize your own day, and journey to places such as Hato Caves and walk the Indian Trail to see carvings done by the Caiquetio Indians more than 1,500 years ago. Hike or walk on the nature trails at Shete Boka National Nature Park, or go snorkeling at Mambo Beach — it's really up to you. This tour also included private round-trip transport from your island hotel.
Price varies by group size
Price varies by group size
---
Spend the day skimming around the Curaçao coast and stopping at some of its picturesque beaches on this full-day powerboat tour. With only a few seats on the boat and only one tour a week, make sure to book early so you don't miss out on this easygoing way to discover what the Curaçao beaches have to offer. Stop at locations both popular and secluded: go snorkeling at Playa Lagun, discover the alien lights of the Blue Room Cave, and maybe see some sea turtles at Playa Piskado.
---
This is a private tour so get the whole boat to yourselves! the minimum charge is $1250 up to 10 people.for each additional person upto 30 we charge $125. kids 11 and under pay $65.contact us for custom bookings. we believe or product is unique in many ways. we don't have a boat packed full of people and we are not set on a timetable or route. we try to be as flexible as possible offering the customer many customizable options and itineraries.for example on our trips west you can have the option of returning by taxi at the end of the day so you can spend more time enjoying the amazing highlights of curacaos coastline without any repetition.
---
Your group will be accompanied by a friendly local guide, who will take you to the most amazing spots. During your Private Trip we will provide a customised Relaxed Beach Hopping Tour based on all your needs and interests. Each trip is completely tailored to your choice of beaches; * Playa Kalki * Playa Piskado * Playa Grandi * Playa Forti * Playa Kenepa Grandi * Playa Kenepa Chiki * Playa Jeremi * Playa Lagun * Boca Santa Cruz * Cas Abao * Playa PortoMari * Daaibooi Beach You name it and we will add it to your customised itinerary. ​Our Tours is ideal for everyone; Families, couples and groups of all ages. For the best relaxation it is recommended to choose max 3 beaches and stay there for about an hour. We will also make a lunch stop.
Price varies by group size
Price varies by group size
---
Your group will be accompanied by a friendly local guide, who will take you to the most amazing spots. Stops mentioned above are an indication off all the unique experiences Curaçao has to offer. Because each trip is completely tailored, you decide the route and the duration of every stop. Options; Beach hopping, Swimming, Snorkeling, also with sea Turtles, Christoffel- and Shete Boka National park, Flamingo sighting, Piggy Beach, visiting old Plantation houses, Colonial monuments & architecture, Souvenir shopping, Blue curaçao tasting, Ostrich farm, Cavers and Blow Hole. You name it and we will add it to your customised Tour. ​ Pretty much a complete Private Tour with a Customised itinerary according to your preferences so you can explore the island by way of activities you want to do and sights you want to see. Our Tours are ideal for everyone; Families, couples and groups of all ages.
Price varies by group size
Price varies by group size
---
Frequently Asked Questions
The answers provided below are based on answers previously given by the tour provider to customers' questions.
Q:
What's the best way to experience Playa Lagun?
---