Where to Stay on the Big Island of Hawaii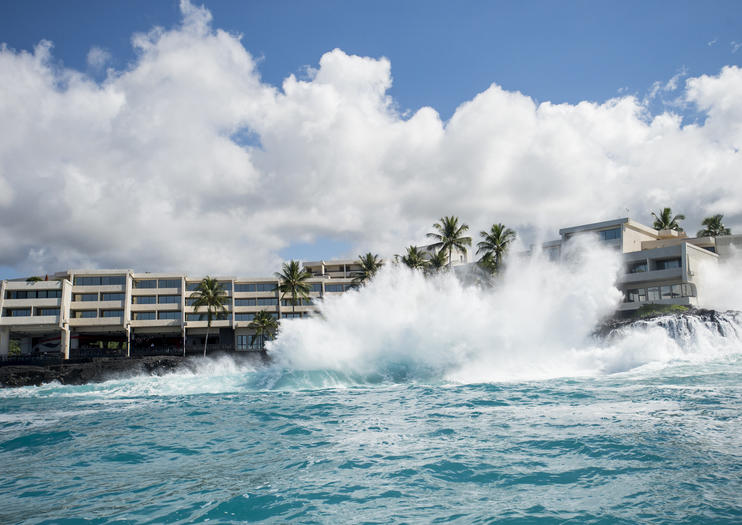 The scenery, weather, accommodations, and atmosphere of the Big Island all vary dramatically depending on location, from the lush rainforests on the west side of the island to sunny white sand beaches on the east. To pick a vacation home base, here's what to know about the island's top towns and what they have to offer.
Kona
Set on the sunny eastern side of Hawaii, Kona is a common entry point to the island. Its proximity to the international airport, picturesque bays, shopping, and historic attractions makes it ideal for those looking for a classic tropical vacation. Enjoy the area's white sand beaches and historic parks or book a kayaking, snorkeling, or parasailing adventure. 
Hilo
Surrounded by lush mountains and waterfalls, Hilo is an adventure lover's paradise. Set on the west side of the island, Hilo is the opposite of Kona when it comes to geography and climate. Plus, it has its own international airport, making it a great spot to stay if you want to explore the alternate side of the island. For spectacular views accompanied by an adrenaline rush, take an open-door helicopter tour or zipline over the region's many waterfalls. 
Waikoloa Village
A historic village set on dramatic black lava fields, Waikoloa has blossomed into a hamlet of luxury resorts. History buffs and nature lovers can get a window into ancient Hawaiian culture on a tour that combines historic sites with splashing in waterfalls. Plus, take advantage of the area's sunny weather and vibrant marine life on a cruise and snorkeling adventure along the Kohala Coast.  
Volcano Village 
Ideal for those who prefer an intimate vacation rental and mountains over expansive resorts and beach towns, Volcano Village is nestled in the jungle close to the entrance of Volcano National Park. If you want to see the famous volcano, staying in the quaint village saves you time you would otherwise spend traveling there on a tour. Here you can spend the whole day exploring the park on a hiking or biking tour. 
Read More
Show Less
The Big Island of Hawaii has a diverse ecosystem unlike anywhere else on the planet, and on this day-long nature tour, experience the beauty of its black-sand beaches, thundering waterfalls, and Hawaii Volcanoes National Park. If you're lucky, find Hawaiian green sea turtles basking on the coast. Since the tour only requires a moderate amount of walking, it's an educational adventure for travelers of all ages, with snacks and refreshments included.
Face masks provided for travelers
Hand sanitizer available to travelers and staff
Social distancing enforced throughout experience
Taking safety measures
---
Have a unique Big Island experience snorkeling with manta rays on this tour. Led by a local guide, you'll take a short cruise out to the manta site, where you'll watch the beautiful Hawaiian sunset before dipping into the water to watch the manta rays up close. All necessary equipment will be provided for your excursion, as well as light refreshments and snacks to enjoy on board. Your tour will conclude at its original departure point. If you don't see manta rays on this excursion, book again for another night--no charge.
---
Experience big skies and incredible nighttime views on this Mauna Kea stargazing trip with a small group. Join no more than 28 guests for a pre-trip picnic at a historic Hawaiian ranch, proceeded by a ride in a 4x4 luxury van to the summit of the Big Island's tallest peak. After admiring a sunset view, continue down to 9,000 feet (2,743 meters) for a stargazing session, complete with a telescope, hot chocolate, and dessert. The trip also includes a guide and a hooded parka to keep you warm.
Face masks required for travelers in public areas
Face masks required for guides in public areas
Hand sanitizer available to travelers and staff
Taking safety measures
---
If you find yourself scouring Big Island reviews for the best luau in Kona, be sure to check out the Island Breeze luau, located right downtown. This immensely popular Big Island luau features shows from around Polynesia, with performances ranging from Fijian war dances to traditional Hawaiian hula. The night is capped off by the heart-pounding action of the Samoan fire and knife show, and in addition to shopping for traditional crafts and receiving your own shell lei, you can feast on a filling Hawaiian buffet that's paired with an open bar.
---
Soar through the air with nothing between you and the radiating heat of an active volcano on a doors-off helicopter tour from Hilo. A must-do for adrenaline junkies, this aerial adventure takes you over the island's volcanic landscape, so you can peer into craters and spot lava. Plus enjoy views of waterfalls and other natural features of the Big Island while aboard.
Face masks required for travelers in public areas
Face masks required for guides in public areas
Hand sanitizer available to travelers and staff
Taking safety measures
---
Journey back in time — when ancient, powerful Kings ruled the rugged, fertile land of the Hawaiian Islands — on this 3-hour lunch or dinner cruise to Kealakekua Bay. Travel 12 miles down the Kona Coast to the Captain Cook monument. Learn the many secrets of the Big Island as a local historian points out more than 50 points of interest along the way. At Kealakekua Bay, enjoy a Hawaiian-style buffet dinner with live entertainment, then relax and experience a beautiful sunset on the return trip. One complimentary cocktail is included.
Face masks required for travelers in public areas
Face masks required for guides in public areas
Face masks provided for travelers
Taking safety measures
---
The city of Hilo is surrounded by some of Hawaii's most scenic wonders, and on this 7-line Hilo ziplining tour, you can literally soar past thundering falls as you zip through a tropical rainforest. Learn about traditional Hawaiian agriculture as you zip by Akaka Falls State Park, and once you're comfortable sitting in the harness and feeling the exhilarating rush, prepare for the dramatic crossing that's one of the longest zipines in Hawaii, and feel the rush of wind on your face as the forest opens up beneath you.
---
Delve into Hawaii's history and prepare to get wet on this full-day waterfall adventure tour of the Big Island's Kohala coast. Begin with a drive up the Kona coastline past lava flows, and take in sweeping views from the old Kohala Mule Station lookout. Rumble through the rugged landscape in an off-road vehicle and hike along the tunnels and aqueducts of a historic sugar plantation. Admire the seven Kohala waterfalls and cool off with a dip under the final cascade. A picnic lunch and hotel transport are included.
Face masks required for travelers in public areas
Face masks required for guides in public areas
Hand sanitizer available to travelers and staff
Taking safety measures
---
Get a bird's-eye view of the Big Island on a parasailing experience. This family-friendly adventure can accommodate one, two, or three people on each flight. Gaze out at the beautiful Kona Coast as you soar 800 feet (243 meters) or 1,200 feet (365 meters) into the air. Then land smoothly and safely back on the boat before returning to shore.
---
Hawaii Volcanoes National Park is famous for its ever-flowing lava and the planet's most massive active volcano. This tour journeys to top natural landmarks in and around the park. Visit Rainbow Falls, Richardson black sand beach, Historic Banyan Drive, Liliuokalani Gardens, Mauna Loa Macadamia Nut Factory, Akatsuka Orchid Nursery, and the active volcano of Kilauea. You also get the opportunity to walk through a lava tube.
---
On this 2-wheeled, adventurous Kilauea tour, explore Hawaii's active volcano from the comfortable seat of a bike, where you ride through multiple microclimates and past rugged volcanic terrain. This Hawaii bike tour is one of the best ways to explore Kilauea volcano, where every bend in the road reveals a new volcanic wonder, from steaming craters to lava fields to cliffs dropping off toward the sea. Even better, the tour includes visits to the steam vents and Thurston Lava Tube.
---
Explore three volcanic craters during one great trip on this 11.5-hour excursion on the Big Island. Travel aboard a high-end Mercedes van as you trek to the still-steaming Mauna Ulu, enjoy an amazing hike across Kilauea Iki crater and discover the summit of Kilauea Caldera. All entrance fees, plus a deli-style lunch and and local-style dinner are included.
---
On this Big Island snorkeling cruise, experience the beauty of the Kohala coast from its colorful reefs to its beaches, as you scan the horizon for splashing dolphins or, in winter, humpback whales. In addition to colorful reef fish, there's always the chance you could find Hawaiian green sea turtles while snorkeling the pristine coves. Enjoy the attentive, personalized service from your professional captain and crew, who also help serve you lunch, and run the boat's open bar.
Face masks required for travelers in public areas
Face masks required for guides in public areas
Hand sanitizer available to travelers and staff
Taking safety measures
---
Get the best possible views of the valleys and sea cliffs that make up the Kohala Coast on this air tour from the Waikoloa Heliport on the Big Island of Hawaii. While listening to engaging commentary from you pilot/guide, make the flight over some of the island's lushest scenery, including a landing at a local waterfall. Explore a remote part of the island only accessible by air before returning to your departure point.
---
---