How to Spend 3 Days in Arezzo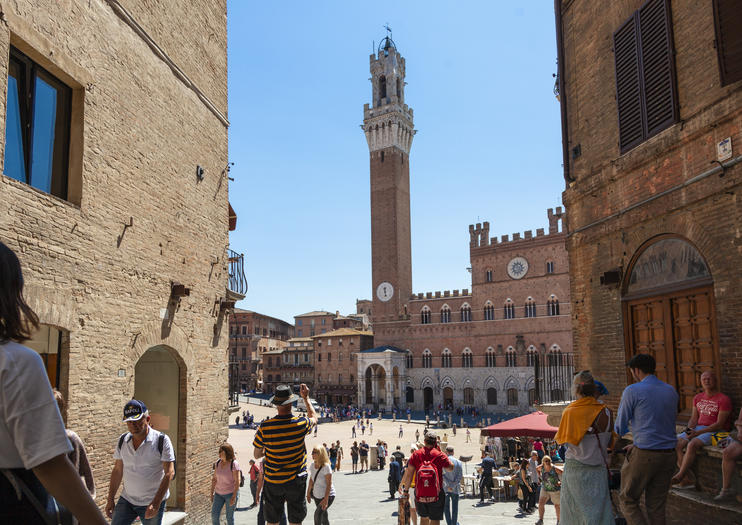 Arezzo is as Tuscan as you can get, both in spirit and in location. In addition to a Hollywood-ready medieval center, the town overlooks four valleys—Val Tiberina, Casentino, Valdarno, and Valdichiana—and is within striking distance of Cortona and Siena. Here are a few ways to see Arezzo and the finest Tuscan hill towns and countryside in three days. 
Day 1: In and Around Arezzo
Get to know Arezzo's handsome historic center and pretty countryside in a single day, beginning with a guided walking tour of the town's cultural highlights in the morning. Take in the main Piazza Grande, lined with Vasari's Renaissance Loggia and Romanesque apse of the Church of Santa Maria della Pieve, and stop by the Church of San Francesco and the cathedral to admire Piero della Francesca's 16th-century frescoes. In the afternoon, wine lovers can tour a winery set in the rolling vineyards and taste the area's excellent vintages, while foodies can learn how to create classic Tuscan dishes with a local chef.
Day 2: Cortona's Simple Pleasures
Experience the charm of Cortona, made famous in Under the Tuscan Sun, with a themed walking tour of the historic center that includes locations featured in the book and film, such as Piazza Garibaldi and Piazza della Repubblica. Art aficionados can visit the Diocesan Museum and the Church of San Domenico to see three works by Fra' Angelico, all dating from 1436. Afterwards, head outside of town to visit two elegant Renaissance churches: Giorgio Vasari's domed Santa Maria Nuova and the Santa Maria delle Grazie al Calcinaio, home to the Madonna del Calcinaio image, said to perform miracles. Lake Trasimeno is just a few minutes away, its quiet shores offering a welcome break from sightseeing and the perfect way to end the day.
Day 3: Sightseeing in Siena
Spend your third day exploring stately Siena and its large yet perfectly preserved medieval center. Start at the cathedral complex with skip-the-line tickets to view the church, baptistery, museum, and library, taking in masterpieces by Bernini, Donatello, and Michelangelo. Afterwards, explore Siena's grand historic center with a walking or Segway tour of highlights, including Palazzo Pubblico, Torre del Mangia, Basilica di San Domenico, and sweeping Piazza del Campo—site of the city's rolicking annual Palio festival and horse race. Photography buffs will want to capture the views over the Crete Senesi landscape from the scenic overlook in Piazza del Mercato; most tours also visit local artisan workshops.
Read More
Show Less
Arezzo Tours & Activities (12)
Day Trips
Experience Siena and the Chianti region on this evening excursion, departing from Florence. Bypass the daytime crowds and arrive in Siena in the late afternoon to explore the Piazza del Campo. From there, visit a Tuscan wine cellar in the famous region of Chianti and enjoy a 4-course meal paired with local wines. After a romantic evening in the Tuscan countryside, return to central Florence.
7 hours

Free Cancellation

Taking safety measures
Learn More
7 hours

Free Cancellation

Taking safety measures
---
Day Trips
See the hills of Tuscany in true Italian style with this action-packed day trip on a Vespa scooter from Siena. Set off on your scooter through the Tuscan countryside, your guide leading the way, as you and other scooter-riding participants make your way to a Chianti winery for lunch. Tour the vineyards and cellars, sample some wine and indulge in an antipasto lunch before heading back to Siena.
---
Private and Luxury
Indulge in one of Italy's most beautiful cities, Siena, during this sightseeing tour. An expert guide gives you an insider's view of this UNESCO World Heritage-listed town. Linger for a while in Piazza del Campo, the superlative square that is home to the Palio, a wild horse race that takes place every July and August. Stroll the streets with your guide learning about the history of the place. Visit the Duomo, Siena's stunning cathedral, and stroll right in thanks to your skip-the-line ticket. 
2 hours

Free Cancellation

Taking safety measures
Learn More
2 hours

Free Cancellation

Taking safety measures
---
Wine Tastings
Indulging in local wine is a must when you visit Tuscany—and on this private tour, you'll go behind-the-scenes at one of the region's most scenic and esteemed wineries, located just on the outskirts of Arezzo. Learn about organic winemaking processes when you tour the vineyards, delve into the cellar to discover how wine is aged, and finally taste three organic wines, along with locally made pecorino cheese and cured meats.
---
Cooking Classes
Get an authentic taste of northern Italy on this 4-hour cooking class in Siena. Led by a local chef, learn how to craft a delicious spread of Tuscan favorites, including bruschetta, crostini and pici, thick, hand-rolled pasta originating in Siena. Afterward, enjoy the fruits of your labor as you savor your creations with your group and a glass of vino. Group size is reserved to 15 to keep this experience as intimate as possible.
4 hours

Free Cancellation

Taking safety measures
Learn More
4 hours

Free Cancellation

Taking safety measures
---
Cooking Classes
Learn some practical culinary skills during this hands-on Tuscan cooking class in a local chef's kitchen in Cortona. You'll prepare a complete seasonal meal with locally produced ingredients that includes antipasto, handmade pasta and sauce, a second course with a side dish, and dessert. After cooking, you'll sit down with your group and dine.
4 hours

Free Cancellation

Taking safety measures
$180.23
Price varies by group size
$180.23
Price varies by group size
Learn More
4 hours

Free Cancellation

Taking safety measures
---
Private and Luxury
Discover Cortona, the town made famous by the novel Under the Tuscan Sun, during a short walking tour. With a local guide, you'll hear fun facts about the book and the film as you stroll through the Roman square of Piazza della Repubblica and see landmarks such as Teatro Signorelli and the Palazzo Comunale. Choose between a morning or afternoon tour when you book.
---
Wine Tastings
The medieval Tuscan town of Montepulciano is famous for its fine winemaking traditions, but finding the best grape flavors requires local knowledge. During this tour, visit two wine estates and cellars in Montepulciano with your private guide, and learn of the region's winemaking heritage. Savor a delicious lunch accompanied by locally made wines, Tuscan cheeses, and cured meats, and admire sweeping views over the sun-soaked vineyards and olive groves.
8 to 9 hours

Free Cancellation

Taking safety measures
Price varies by group size
Price varies by group size
Learn More
8 to 9 hours

Free Cancellation

Taking safety measures
---
Private Sightseeing Tours
Discover the Tuscan city of Arezzo with your own personal guide, just for your group. Loved for its architecture and historical art, the city is home to countless gems, which you'll learn about from your guide. Check out the Cathedral of St. Peter and Donato and stroll through Piazza Grande as tales of Roberto Benigni's film La Vita è Bella (Life is Beautiful) ring in your ears.
---
Multi-day Tours
This eight-day tour is perfect for visitors looking to fully immerse themselves in the beauty and the cuisine of Tuscany. After pickup via private vehicle from the Arezzo train station, you'll head straight to your villa. Over the course of the tour, you'll take several cooking lessons with a professional chef; will embark on restaurant, market, and winery visits; see several UNESCO World Heritage Sites and other cultural stops; and enjoy time at your leisure to swim in the villa's pool and soak up the scenery.
Price varies by group size
---
Cooking Classes
Learn the secrets of Italian cooking from an expert chef with this 3-hour Tuscan cooking class. Get hands-on experience preparing traditional Tuscan dishes. Enjoy creating seasonal meals with only the freshest ingredients from the local market. Special dietary needs can be met by request. Complete your day by eating the lunch you've prepared.
---
Photography Tours
Receive a master class in nighttime photography during a 2.5-hour evening tour of Arezzo. As daylight slips from dusk to darkness, you'll enjoy a glass of wine, then explore Arezzo's Old Town with a professional photographer and small group of eight people. Capture photos of illuminated monuments, and hear tips on a range of topics from camera composition to lighting tricks. Tripod use is included; you just need to bring a DSLR or compact camera. 
2 hours&nbsp30 minutes

Free Cancellation
Learn More
2 hours&nbsp30 minutes

Free Cancellation
---
---