Don't-Miss Dishes in Amsterdam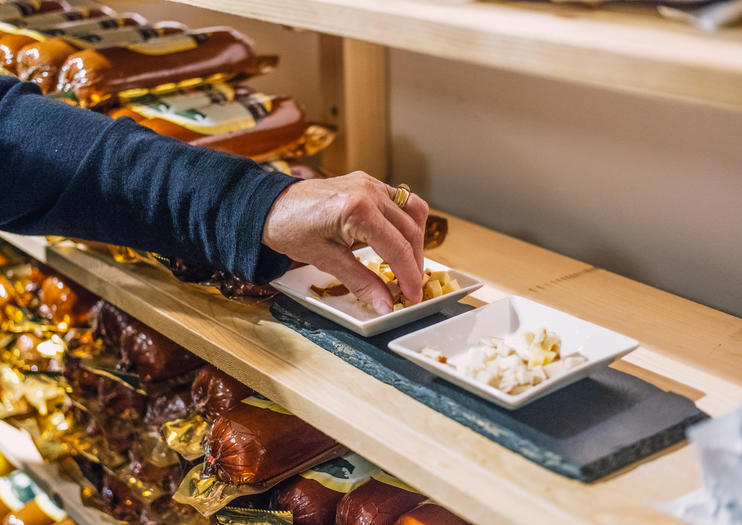 If you like rich, heavy foods and drinks, Amsterdam won't disappoint. The capital of the Netherlands is a great place to sample traditional Dutch snacks and produce, best experienced with locally produced beer. Here are a few items you won't want to miss.
Beer
Amsterdam is a great place for beer lovers, and many visitors make a trip to the Heineken Experience a top priority. For something more authentic, Amsterdam's bar- and tasting room–packed De Wallen district is a good place to start. 
Bitterballen
If you find yourself in a bar in Amsterdam, you're sure to see bitterballen on the menu. This popular bar snack is made from a mixture of meat, butter, and spices that are formed into little balls, deep fried, and served piping hot with mustard.
Cheese
While you can certainly taste plenty of great cheeses in Amsterdam, you may want to head out to the nearby town of Gouda or to the town of Alkmaar, with a cheese market dating to the 14th century.
Rookworst
The most popular type of Dutch sausage, smoked rookworst is made from spiced meat in pig intestines. It's available all over town, with plenty of great options right in the Jordaan area. 
Pannenkoeken
Dutch pancakes, or pannenkoeken, are a popular snack item in Amsterdam, served with either sweet or savory toppings. There are plenty of places to get them around town, though they aren't that difficult to DIY. Some cooking classes even teach participants how to make them at home.
Read More
Show Less
Amsterdam Tours & Activities (8)
Full-day Tours
Discover the delectable bites and cultural highlights of Amsterdam's sophisticated Jordaan district on a culinary walking tour of the enclave. With an expert epicurean guide, visit local foodie hotspots to sample enticing delicacies like smoked sausage, creamy Gouda and pickled herring. Delve into the rich culinary culture of the Netherlands with your informative guide and enjoy an alternative experience of Amsterdam as you discover places off the conventional tourist trail. Receive personalized attention from your guide on this small-group tour, limited to only 12 fellow food-lovers.
3 hours&nbsp30 minutes

Free Cancellation

Taking safety measures
Learn More
3 hours&nbsp30 minutes

Free Cancellation

Taking safety measures
---
Dining Experiences
Unwind from a busy day of sightseeing on this evening cruise through Amsterdam's canal district. Admire the illuminated waterfronts as you glide through the city center, the Golden Bend, and Oosterdok, and listen to the onboard guide's insightful commentary. As you take in the sights, savor wine, Dutch cheese, and snacks while seated at a table aboard the boat.
1 hour&nbsp45 minutes

Free Cancellation
---
Dining Experiences
For a completely authentic dining experience in Amsterdam's trendy Oud-Zuid neighborhood, head to the home of local chef Simon for a private, homemade meal. Enjoy three to four courses showcasing seasonal ingredients and the diverse flavors of Dutch cuisine, each expertly paired with wine. Dine family-style around a welcoming table, and experience true Dutch hospitality that can't be matched in any restaurant.
3 hours

Free Cancellation

Taking safety measures
Price varies by group size
Price varies by group size
Learn More
3 hours

Free Cancellation

Taking safety measures
---
City Packages
Visit Amsterdam's culinary hot spots on this 2.5-hour food and walking tour. Alongside your guide and small group, limited to just 12 foodies, travel around town to taste popular local dishes such as salty fries and fresh herring. Sample pungent artisan cheeses, and throw back a house spirit at a 17th-century distillery. Along the way, gain insight into Amsterdam's gastronomic roots and the historic Dutch spice trade.
---
Half-day Tours
Find beervana on this 3-hour evening Amsterdam beer tour that avoids the tourist-traps and showcases some of Amsterdam's quality bars. An in-the-know guide takes a small group, limited to just 12 beer nuts, around the picturesque city to popular local watering holes, including a brewery in the Red Light District and a beer hall boasting more than 200 types of frothy goodness! Along the way, sample three beers and learn about the Netherlands' beer-brewing history.
---
Half-day Tours
Nibble your way through Amsterdam's international dining scene on a private tasting tour led by a local foodie guide. Learn about the international flavors that have influenced Dutch cuisine while grabbing bites at a local market, beer garden and family restaurant. Savor handpicked local delicacies including the best fish in town, a sweet 'stroopwafel' and artisanal cheese.
3 hours

Free Cancellation

Taking safety measures
Price varies by group size
Price varies by group size
Learn More
3 hours

Free Cancellation

Taking safety measures
---
Cooking Classes
Immerse yourself in Dutch culture with a private cooking class in the heart of Amsterdam. Your guide, a local cook, offers an insider's perspective on national dishes as you learn to make them yourself. From Dutch meatballs to traditional pancakes, this course arms you with a range of recipes to bring back home and impress your friends. After the class, sit down for stories over drinks and dinner.
3 hours

Free Cancellation

Taking safety measures
Price varies by group size
Price varies by group size
Learn More
3 hours

Free Cancellation

Taking safety measures
---
---